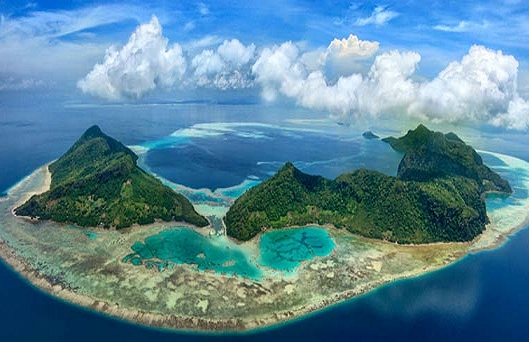 Tun Sakaran Marine Park is a 35,000 ha archipelago located at the entrance of Darvel Bay, off Semporna and is a unique blend of nature and marine biodiversity. It is the perfect holiday spot for nature lovers, culture seekers, snorkelers, hikers and divers. Tourists can hike, meet the Sea Gypsies, scuba dive, snorkel and watch birds the whole day at this wonderful park.
Compared to Semporna town, nature remains comparatively unspoiled here and the marine life here, also not as astounding as Sipadan and Mabul island, is still very good and has been compared to the Australia's Great Barrier Reef (according to the scientific study by marine biologists).
However, it is not just nature's bounty that makes the place so attractive. The crowning glory of the place is the people who live here – the nomadic Sea Gypsies, called Bajau Laut, who have woven a special type of give-and-take relationship with the waters of the area. They live in houseboats, or homes built on stilts on top of coral reefs. Their unique lifestyle and bonds with nature are added attractions for visitors.
Semporna Islands
The Tun Sakaran Marine Park (TSMP) is also called the Semporna Islands Park and consists of 8 islands and 2 reefs.
What are the Tun Sakaran Top Activities?
Snorkelling and Diving in Tun Sakaran Islands
The Tun Sakaran Marine Park is an active marine life spawning, breeding and growing ground, there are well over 500 species of fish and more than 200 species of invertebrates found here, as well as a huge variety of corals, making Tun Sakaran a veritable divers paradise!
Diving tours to the surrounding reefs and popular dive sites are organised frequently here by dive operators in the resorts, hotels and beaches around Mataking, Pom Pom Island, Semporna and Singamata.
There are 21 dive sites such as Church Reef (Tabah Siramba), Kapikan Reef, Mantabuan, Ribbon Reef, Sibuan Reef, etc.
Some of the most visited islands for fantastic diving include:
Bohey Dulang - Known for it's giant clam and marine invertebrate hatchery, the diving here is stunning. Take an adventurous jungle hike to the top of the peak and be rewarded by panoramic views of the surrounding lagoon.
Mantabuan - This island has three fantastic multi-level dive sites called Black Coral Garden, Stingray Alley and Star Point. Full of colourful soft and hard corals, this area is well known for encountering large groups of manta, eagle and devil rays.
Maiga - This picturesque southern island is known not just for its outstanding natural beauty, but also for its friendly inhabitants, the nomadic sea gypsies, who's main source of income is fishing. Surrounded by colourful protected reefs and corals, you'll see an abundance of dancing fish such as clown fish, angelfish, snappers and blue tangs.
Dive centers and operators also conduct PADI dive courses at the park.
Hiking up Bohey Dulang
The island of Bohey Dulang has a ascending trail towards its top. The trail goes up to the 353 meters high peak and is rewarding with fauna such as birds, butterflies and monkeys (long-tailed macaques) and of course the views of the blue lagoon and TSMP Islands.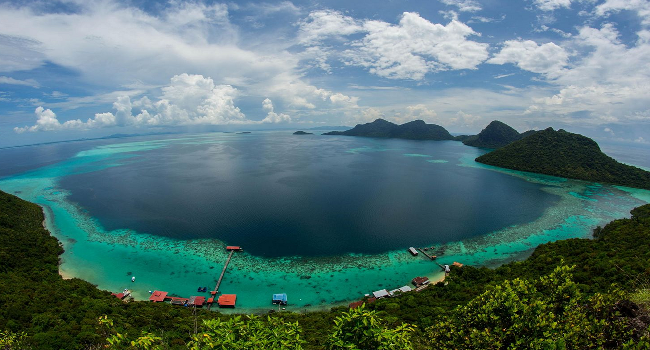 Visit the Giant Clam and Marine Invertebrate Hatchery (GCIH)
Since 2006, Bohey Dulang is home to a hatchery called Giant Clam and Marine Invertebrate Hatchery, set up with the collaboration between Sabah Parks and the Semporna Islands Darwin Project project (SIDP). Rare species of giant clams are bred at the hatchery.
Bird Watching at Tun Sakaran
The island of Bohey Dulang was categorised a bird sanctuary as early as 1933, and it is now a part of Tun Sakaran Marine Park. The high density of birds on the island makes it a paradise for bird watchers.
List of bird species that have been recorded: Pied Imperial Pigeon, Metallic Pigeon, Nicobar Pigeon, Tabon scrubfowl, Collared kingfisher and Pied Hornbill, Sea eagles along with owls, raptors, flycatchers, thrushes, bulbuls and sunbirds.
Meet the Bajau Laut
The nomadic and very poor tribes of Sea Gypsies, locally known as Bajau Laut, mainly inhabit the islands of Bohey Dulang, Bodgaya, Mantabuan, Sibuan, and Maiga. Their life within their wooden boats or on water village and their unique chemistry with water are unique.
Where are the Tun Sakaran Resorts?
Those who want to visit the place have to stay in the nearby islands of Pulau Mataking, Pom Pom Island, or Singamata, or in Semporna Town. All these places have good hotels and resorts that can regularly take visitors to the park. There are no accommodation inside the park at the moment.
How to Get to the Tun Sakaran islands?
The speed boat ride from the islands of Pom Pom and Mataking will take about 20 minutes to the park and organize trips to the Park on the daily basis. Semporna is about 15 minutes away and Pulau Mabul is the farthest and getting there will take more than one hour (depending on the tide).
Please contact us for more information about visiting the Tun Sakaran Marine Park.