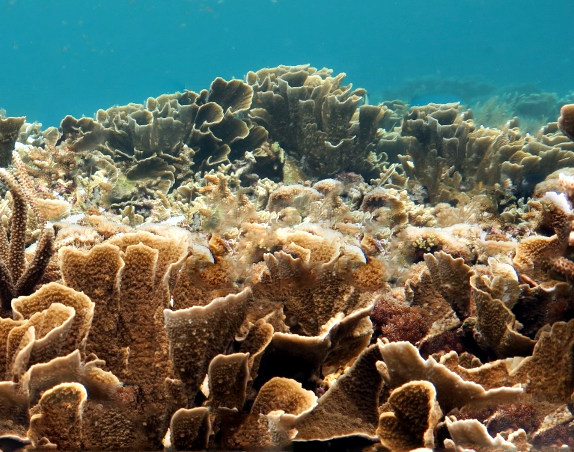 Kapikan Reef, which also goes by the name Lonely Reef, is one of the two reefs that are part of the Tun Sakaran Marine Park. Its coral gardens are superb. The slightly-sloping reef is about 3 km x 1.5 km in size and its rim has an approximate length of 7.3 km.
What makes Kapikan Reef a divers' delight is a wide reef top on its northern edge, with a depth ranging between 1 and 5 metres.
Church Reef, the other reef in the marine park, and Kapikan reef are both patch reefs. Sandbanks become visible on the southern side of Kapikan Reef when the tide is low. The reef of Mantabuan Island and Kapikan Reef are connected on its east side.
Towards the north-eastern part of Kapikan, the reef is quite deep. There it is also a perpendicular rock full of crevices.
How is the Scuba Diving and Snorkeling?
Kapikan Reef is ideal for diving or snorkelling. Daily trips to the reef are run by several dive operators. The marine fauna of the place includes puffer fish, crocodilefish, blue-spotted stingrays, sea turtles, and the deep water black corals.
Where to Stay?
Those interested in diving or snorkeling there usually opt to stay either in the nearby islands of Mataking Island Resort, Pom Pom Island Resort or in Semporna town.
How to get there?
From Semporna to Kapikan Reef: only 40 minutes by speedboat.
From Mataking and Pom Pom Island: about 20 to 30 minutes.
From Mabul island the boat journey takes one hour and half.
Contact us for more information about Kapikan Reef.