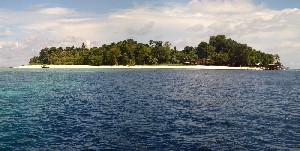 The climate of
Sipadan
and nearby islands can broadly be described as hot and sunny all year round.
The Sipadan area is blessed with a cooling ocean breeze and scattered rains.
Average temperature: 30-32°C.
Water temperature: 27-30°C.
Diving Season
There are no monsoon or typhoons.
The Sipadan scuba diving season is year round.
The best visibility conditions are between March and July.
Peak Tourist Seasons
July and August
Christmas and New Year
Chinese New Year
Golden Week (beginning of October)
Golden Week (beginning of May)
Note that some resorts are fully booked 6 months in advance.