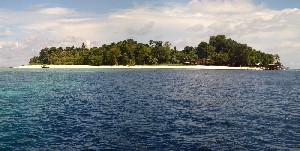 The climate of
Sipadan
and nearby islands can broadly be described as hot and sunny all year round.
The Sipadan area is blessed with a cooling ocean breeze and scattered rains.
Average temperature: 30-32°C.
Water temperature: 27-30°C.
When is the Best Season to Dive at Sipadan?
There is diving year-round at Sipadan (there are no monsoon or typhoons) but conditions vary with the time of the year.
Conditions are best between Mid-February and July or September till November when the visibility is best and conditions are settled. Visibility during these months ranges between 15 and 30 meters. The seas are usually calm, at times even glass-calm. The days are usually sunny and hot and the temperatures of the water are reliably bath-warm.
Experienced Sipadan divers claim that March through June are the best months for diving. Visibility is at its peak between 20 and 40 meters, there is plenty of sunshine and the sea is calm. Some divers include September through to early December amongst the best time to dive too. July has been known for their very good conditions as well.
The winds from the north in January or February and those from the south in August or early September may reduce visibility to between 10 and 20 meters. These winds may cause the surface conditions to get a little choppy which can make the boat ride out to the site uncomfortable. Although conditions are less desirable, divers who have visited during these months have often reported great visibility and superb marine life. While there is always the possibility of being disappointed on any particular day, Sipadan is still one of the better year-round dive destination.
December to February is rainy season on the island which may cause the visibility to decrease. While the rains have become uncertain of late, showers are most frequent in January and February. During the rainy season, Mabul, Sipadan and Pulau Kapalai do not generally see much rain, but rather scattered rain in the evening. However, the air and water temperatures can get a little cooler than usual.

When is the Peak Tourist Season at Sipadan?
This is a world-renowned diving destination so during the most popular months, especially the Chinese holidays, it is likely that the resorts will be fully booked long in advance. The busiest times are during Chinese New Year, July and August and the first week of October (Chinese National Week), along with Christmas and New Year.
Sipadan Peak Touristic Periods
July and August
Christmas and New Year
Chinese New Year (Between January and fevruary)
Chinese Golden Week (1st week of October)
Japanese Golden Week (beginning of May)
Note that some resorts are fully booked many months in advance. Be sure to plan your vacation well ahead of time if you want to visit then, or otherwise, choose different dates.
When is the Sea turtles nesting season?
Nesting for hawksbill and green turtles usually happens from April through to September.
Anyone visiting at this time can expect to see greater numbers of turtles, however they are always around. In fact, the island has a higher proportion of local marine life than it does visitors. The white-tip sharks, barracuda, jacks and bumphead parrotfish are all residents of the reefs around the island.