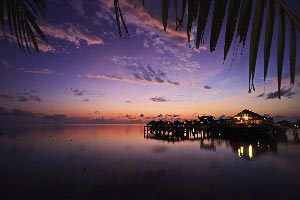 Pulau Sipadan is a protected area. Since 2005 all Sipadan resorts are located at nearby islands of Mabul, Kapalai and Mataking.
Top Luxury
Mabul Water Bungalows Resort lies directly over the turquoise waters of Pulau Mabul island and offers the best option for in luxury. This award-winning honeymoon resort is a popular choice for divers thanks to amazing housereef and its close proximity to Sipadan island.
Mataking - The Reef Dive Resort - is a beautiful private island getaway surrounded by with white sand beaches. The resort is a paradise and suitable for families with small children thanks to its wide range of activities above water.
Luxury Range
Sipadan-Mabul Resort is located on a beautiful white sand beach of Mabul Island right at the heart of the world's best diving destination. Amenities include a swimming pool and a jaccuzi.
Sipadan-Kapalai Dive Resort is built on stilts right in the middle of the Celebes Sea and the luxury chalets offer magnificent views of the turquoise sea waters and a jaccuzi. The resort is popular with honeymooners.
The Sipadan Water Village Resort features various type of seaview chalets, a bar, restaurant, a dive center and an amazing house reef.
Medium Range
Borneo Divers Mabul Resort is located on a beautiful Mabul Island's beach with superb views of the sea. The resort features a swimming pool and each chalets has its own private balcony.
Seaventures Dive Resort is a unique hotel built on a converted oil rig. The resort is a a short distance from Mabul Island and boasts a famous house reef right below the resort.
Sipadan Liveaboard
The brand new Celebes Explorer 9 is a luxury newly built vessel now operational since September 2019 and featuring 8 comfortable cabins.