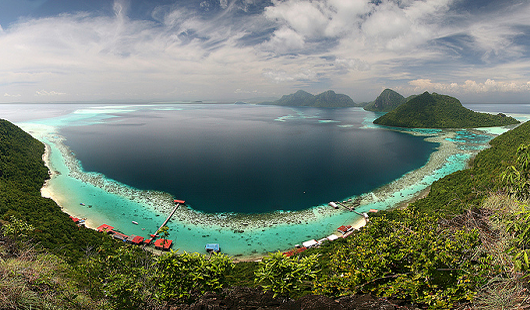 Bohey Dulang is the second-largest island among the Tun Sakaran Marine Park archipelago. Bohey Dulang is a trekkers' and birdwatchers' favorite, offering fantastic views from its 353m peak. Birds are aplenty on the island. Is it possible to walk around the island at low tide on the beach.
The island is 23km away from Semporna and has a superficy of 313 hectares.
The islands are part of an extinct volcanic crater what are now forming a beautiful lagoon. The lagoon is open on its southern side but the crater rim on that side extends into a long coral reef. A thin channel separates Bohey Dulang from Pulau Bodgaya, which is the largest island in the group.
Small rock pools, fed by waterfalls, dot the eastern side of the island. These are 2 to 3 metres across in size and are connected to each other through a stream.
Completing this picture of natural beauty is the island's inhabitants who are Sea Gypsies living in and working from within their boats. Their unique equation with water has been of much cultural interest to visitors from all over the world.
Bird Watching
In the past, the island was categorized as a bird. Since 2004, it is now part of a protected a marine park (TSMP). The island is home to a variety of birds like pied hornbills, partridges, owls, fruits doves, babblers, metallic pigeons, ground-living scrub fowls, and many more, making it a paradise for bird lovers.
Hiking up for the view
Bohey Dulang has a hiking trail going up the 353 meters peak, winding around the island to its peak. It takes about 45 minutes to reach the top. Climbing across it can be very rewarding because of the unique flora and fauna that you can enjoy on the way. Besides the colourful birds, the island has got monkeys (long-tailed macaque), and rare plants that grow on volcanic rocks. From the end of the trail at the top, trekkers can see the crater-lagoon, surrounded by the islands of Bodgaya, Bohey Dulang and Tetagan.
Giant Clam Hatchery
The island has a Giant Clam and Marine Invertebrate Hatchery that breeds rare species of giant clams. Besides this, active seaweed farming also goes on here.
The Bajau Laut (Sea Gypsies)
The Sea Gypsies, locally known as the Bajau Laut, inhabit the islands of Bohey Dulang and Bodgaya. Their nomadic and water-bound lifestyle is a subject of interest to ordinary tourists as well as anthropologists.
Scuba Diving and Snorkeling Trips
There are plenty of dive operators and resorts that organize diving and snorkelling trips to Bohey Dulang.
Where to Stay?
Adjacent islands like Pom Pom Island Resort and the Reef Dive Resort (Mataking) offer superb resort facilities and organize daily visit to Bohey Dulang. There is also a range of accommodation in the nearby town of Semporna.
Speed Boat to Bohey Dulang
From Semporna to Bohey Dulang: countabout 35 minutes by speedboat.
From Mataking and Pom Pom Islands: count about 20 minutes.
From Mabul island, you will need 1.5 hours to reach Bohey Dulang.
Please contact us for more information about Bohey Dulang.