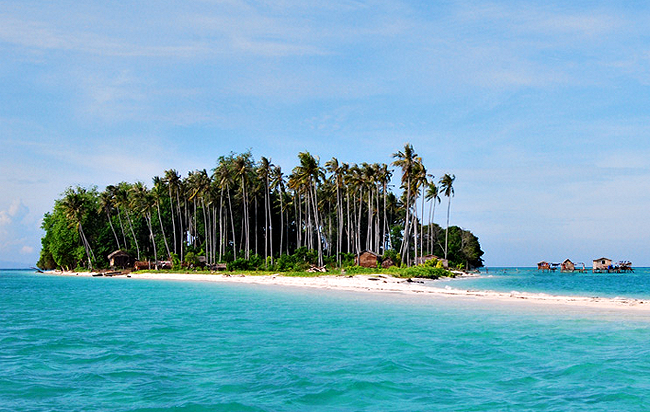 Pulau Sibuan is beautiful island and one of the eight islands forming the Tun Sakaran Marine Park. In fact, it is said to be among the loveliest islands in the Celebes Sea. From Semporna, the boat journey to Sibuan island takes around 30 minutes, though it could take longer depending on the tide.
Sibuan is known locally as Battleship Island, and much of Sibuan's beauty is its unspoilt condition, especially its well-preserved corals. The sandy beach encircling the island is fringed with coconut palms. On the southern side of the island, there is an attractive sand bank that is used a lot by picnicking tourists.
Sibuan is a low-lying (1 to 2 meters above sea level) sandy island situated atop a coral reef in the north-western side of Bodgaya. It is triangular in shape, 15.13 acres in area, and was formed by the remnants of a nearby coral reef. Limestone rock formation can be seen on various parts of the island.
Long and narrow with triangular shape viewed from above. At the south is a long narrow strip of sand, which gets flooded at high tide.
In the center of the island is a small forest and the beaches are lined with coconut trees.
How is the Scuba Diving and Snorkelling in Sibuan?
Sibuan island, with its silvery sand and clear water, is ideal not only for scuba diving and snorkeling but also for swimming and sunbathing. Stingrays, cuttlefish, turtles, and the incredibly colourful mandarinfish are prominent in its waters while there is a good variety of smaller critters like pygmy seahorses playing hide and seek among its pristine corals.
With a combination of shallow plateaus and steep slopes, the island is a regular stop over during open water diver courses and experienced diver programs.
Swimming in Sibuan
The water is clear and inviting making this small island is popular for swimmers and snorkelers.
The white sandy beach is perfect for swimmers and non-swimmers alike.
Note that the only area suitable for swimming is the southern end, because elsewhere you have to wade through the coral banks before being able to reach the sea.
With the effort of both the local authorities and the divers community, the island beach is kept clean with only driftwood.
Bajau Laut
For the nomadic tribe of Sea Gypsies called the Bajau Laut, their carved wooden boats define their very existence. Meeting these people, who are completely cut off from mainstream civilization, can be a very interesting experience for visitors.
Where to Stay?
Neither Sibuan nor any of the islands in the archipelago forming the Tun Sakaran Marine Park, have any tourist accommodation. nearby islands with beautiful resorts Mataking Island Resort and Pom Pom Island Resort. Another option is to stay on the mainland in Semporna town also features plenty of hotels, resorts and hostels. Dive operators bring tourists to Sibuan on daily trips.
How to reach Sibuan
A virtually deserted beach, white sand, warm water, excellent snorkelling make this island an amazing paradise off the coast of Sabah in the Celebes Sea.
Contact us for more information about Sibuan.