Sipadan is the World's Top 10 Best Dive Site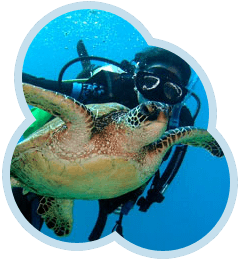 Click here to Make a Booking
(Special Online Discount)
The Oceanic Sipadan Island is in the top 10 list of world-class diving destinations and attracts not just divers but also marine biologists, macro enthusiasts and underwater photographers from around the globe.
Pulau Sipadan ('Border Island' in Malay) is an island of outstanding natural beauty.
The island is only 12 hectares (30 acres) and is covered by pristine rainforest.
The amazing diversity and abundance of marine life found at Sipadan makes it one of the top world's top diving spots and without doubt the most famous scuba destination in Malaysia.
Sipadan island is regularly featured in the world's top 10 dive spots along with other destinations such as the Galapagos Islands, Raja Ampat, Palau, etc.
Scuba dive with the swirling tornado-like formation of Barracudas, the big-eye trevallies, the thousands silver jack fishes, the giant size parrot fishes, the numerous turtles and many others such as mantas, eagle rays, tunas, scalloped hammerhead sharks, whale sharks and 3000 more species of fish.
Said to be "An untouched piece of art" by famed Oceanographer Jacques Cousteau, this highly protected area with its Marine Parks and amazing dive sites is swarming with over 3000 species of Fish, Crustaceans and Invertebrates. Everywhere you look, you will also see hundreds of corals, sponges, anemones and Nudibranch varieties.
"I have seen other places like Sipadan 45 years ago. Now we have found again an untouched piece of art." Late Captain Jacques-Yves Cousteau, 1988.
Contact us for more information about Sipadan (Special Online Discount)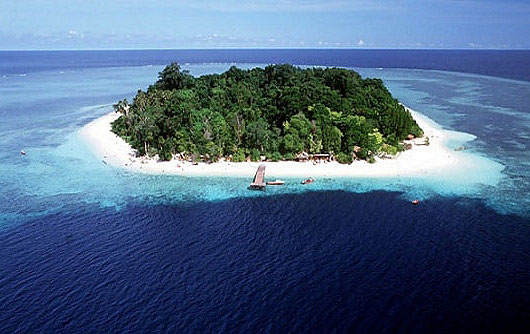 6 reasons why you will love diving at Sipadan Island
Barracuda Vortex
One of the highlights of diving at barracuda point is seeing up close thousands of mainly Chevron Barracudas forming a spinning silver vortex/tornado in the strong current, sometimes around you. Ranging in size from ½ a metre to 1 metre long, these sharp-toothed predators are usually docile, but approach with caution and avoid wearing shiny gear that may attract some intimidating attention.
Hawksbill and Green Turtles
These gentle giants are considered endangered and rare, but they're a common sight in Sipadan thanks to the local turtle conservation projects, and you could encounter as many as 20 to 50 in one dive alone. If you approach softly, you might be blessed with several minutes of interaction with one. It's been observed that a school of Jacks usually indicate the imminent arrival of Sea Turtles.
Schools of Bumphead Parrotfish
These goofy-looking vertical fish have a distinct bulbous hump on their heads, have a thousand razor sharp teeth with one big protruding tooth like a parrot's beak, they can grow up to (1-1.5 meters) 3- 4 feet long and can weigh as much as 160 pounds. These coral reef dwellers can be spotted marching along in single file munching on up to 5 tons of coral and algae annually!
White-tip Sharks
The most common sharks in Sipadan are White & Black Tip Reef Sharks. Usually timid and placid during the day-time, they are rarely aggressive to humans, and can be spotted sleeping along coral reef ledges or inside sandy cavern floors, however, as soon as the sun sets, these nocturnal creatures turn into fierce predators of small fish like sardines or sleeping Eels and Octopus, and Crustaceans like Crabs and Lobsters.
Schools of Bigeye Trevallies
Schools of Bigeye Jacks can be seen swarming on reef plateaus at depths of 10-15 meters (30-45 feet). As you swim along the walls and ledges, you'll see thousands congregating in slow-moving, gentle silver tornadoes. You might also spot solitary or smaller groups of Bluefin Jacks and Giant Trevallies in the area too.
Longfin Batfish
The most common one here is the Longfin Batfish but these gorgeous fish come in many varieties and colours. Usually seen sheltering amongst coral gardens or shipwrecks, they will swim up to boats and follow divers up close. It may seem that they're being friendly and nosy but really, they're seeking refuge from other large objects or predators. Interestingly they are not weed eaters but have been known to save coral reefs that were being choked by seaweed.
Divers: Contact us to Reserve your Sipadan Permit in Advance!
(Special Online Discount)
What birds and other animals can be seen on Sipadan?
When there is so much beauty below the sea at Sipadan, how could anyone expect more? However, the island is astonishing above the waves as well. Even though Sipadan has a reputation as a utopia for divers, it is equally divine for bird watchers.
The 47 bird species that flock to the island ensure that both novice and seasoned bird watchers are never bored. The island may be tiny, but it has an abundance of colorful and beautiful birds soaring through its skies. Terns, frigates, kingfishers and sea eagles are amongst those that are easily spotted.
Birders will be interested to know that Sipadan is used as a stopover for common and greater sandpipers and plovers. As the weather turns cold in China, Nicobar pigeons migrating south from there take a rest on Sipadan too.
Large, brown megapodes can be seen scavenging for fallen fruit or scratching for worms and snails with their large claws. Their distinctive call sounds almost cat-like.
The white-collard kingfisher cackle often mingles in. These birds are exotic looking with their brightly colored feathers. They have short tails and legs but large heads with long and powerful beaks. Those who find a kingfisher nest to peek inside will likely see the remains of fish bones, one of their favorite meals.
In strong difference to the call of the kingfisher, is the Pied Imperial pigeon's gentle cooing. The pigeon's creamy color, in contrast to the green vegetation on the island, help it to stand out.
Robber crabs, often called coconut crabs, scurry around the island. They are the world's largest terrestrial anthropoids. The massive crustaceans eat coconuts by prying the outside shells open with powerful claws. Coconut eating crabs? It's a truly unique experience on Sipadan.
Other rare species of land creatures found on the island are the local snails with their distinctive shell designs and the blue tailed skinks. Skinks can be spotted in sunny spots regulating their body temperatures by soaking up the warmth.
If you are planning to visit Sipadan to dive, bird watch or to simply laze in the warmth of the sun like a skink then be prepared to be astounded by its unspoiled beauty above as well as below the water. Sipadan is noted on numerous 'best of' listings and it's easy to see why. As more people discover it, Sipadan will likely become renowned. It is reassuring to know when that happens, the abundant and beautiful coral, fishes, land creatures and birds found there are conserved so everyone will always be able to enjoy them.
Contact us for more information about Sipadan (Special Online Discount)