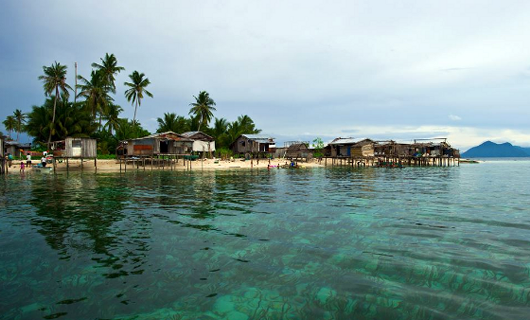 Pulau Maiga is a beautiful island with sandy beaches lined with coconut trees. It is situated in the Tun Sakaran Marine Park and lies between the tear-shaped island of Sibuan and the more populated island of Selakan.
Unlike its neighbouring Selakan and Sebangkat islands, Maiga is not a limestone island. It is sandy and flat. The total area of Maiga is about 20 hectares. The reef encircling it is about 8km long.
Diving and Snorkelling
The clear water around the island allows for snorkelling and diving and there are many dive operators who organize regular day trips to Maiga.
Interacting with the Sabah Bajau
The beach encircles the island and there is a small village of Sea Gypsies (sea Bajau). They survive by fishing and cultivating seaweed. It is possible to buy the purple seaweed there.
The group is probably one of the last surviving nomadic marine communities. It is interesting to watch their fast-disappearing lifestyle.
Where to Stay?
As in the case of the other islands of Tun Sakaran Marine Park, the island of Maiga too does not offer any accommodation for tourists. Visitors can stay in resorts or hotels in the islands of Pulau Mataking, Pom Pom Island, Singmata or in the nearby town of Semporna. In addition, Selakan which is adjacent to Maiga, has some basic accommodation. There are hotels and resorts in nearby islands such as Mataking.
How to catch a Boat trip to Maiga?
From Semporna to Maiga: 30 minutes boat ride.
From Mataking and Pom Pom Islands: count about 25-30 minutes.
From Mabul, you will need 90 minutes to reach Maiga.
Contact us for more information about Maiga.