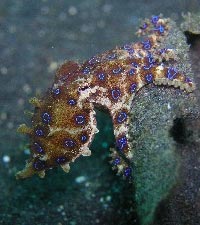 Kapalai is a luxury resort on stilts sitting on a shallow reef.
Click here to Book Kapalai Resort (Special Online Discount)
Kapalai is also a stones throw away from Mabul and 20 minutes from Sipadan, which is well known for its stunning underwater scenery and large numbers of marine species.
Like for nearby Mabul Island, many divers come to dive Kapalai to enjoy the fascinating muck diving and underwater macro photography.
Kapalai is not really an island, but a large sandbank with a floating diving resort with beautiful over-water bungalows interconnected by a series of walkways and it has some superb open-water and macro diving sites surrounding it.
In Kapalai it is possible to see underwater creatures such as:
Large greenback and hawksbill turtles
Huge giant morrays
Nudibranchs
Crocodilefish
Octopus
Frog fishes
Mantis shrimps
Flamboyant cuttlefish
Blue-ringed octopus
Lobsters
Garden eels
Small wrecks
Etc.
Scuba diving Kapalai is year round.
Recommended Length of stay: 5 to 14 days (including Sipadan and nearby islands).
Pulau Kapalai dive site map: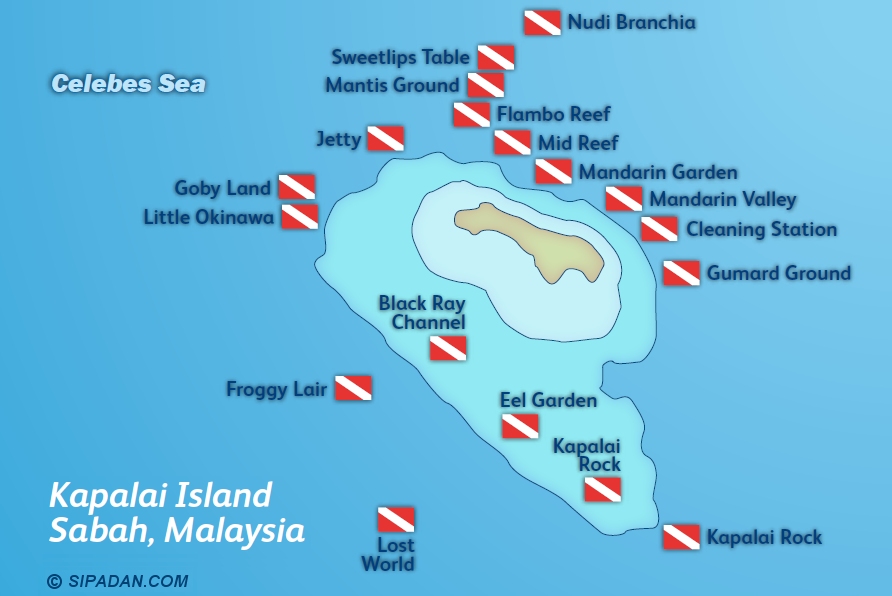 Kapalai Dive sites of notable interest are as follows
Mandarin Valley
This popular macro-photographers site is a mad circus of manic marine life here. As well as hundreds of strange and wonderful tiny critters, you can see flamboyant gobies and cuttlefish, jawfish, the more unusual leaffish, grey frogfish and ghost pipefish, hawkfish, crocodilefish and of course, many colourful mandarinfish which give this site its name.
Kapalai Jetty
Right beneath you on the main resort jetty is the best of them all, spot colourful schools of fish and even blue ringed octopus.
Gurnard Point
A calm shallow reef dive with clear viz and a sandy bottom, this site is crammed with marine life all along the reef, you can see hundreds of stingrays such as blue spotted rays, ribbon and moray eels, schools of boxfish and batfish, dragonets and octopuses, as well as several varieties of macro critters and crustaceans like shrimps.
| | | | |
| --- | --- | --- | --- |
| Kapalai Dive sites | Min depth | Max depth | Experience |
| Mandarin Valley | 8m 26ft | 20m 66ft | OW |
| Spotted Ray Channel | 5m 16ft | 20m 66ft | OW |
| Kapalai Jetty | 5m 16ft | 20m 66ft | OW |
| Gurnard Point | 5m 16ft | 20m 66ft | OW |
| Mid Reef | 15m 49ft | 30m 98ft | AOW |
| Cleaning Station | 8m 26ft | 20m 66ft | OW |
| Check Point | 5m 16ft | 30m 98ft | OW |
| Stingray City | 8m 26ft | 14m 45ft | OW |
| Great Wall | 30m 98ft | 60m 196ft | AOW |