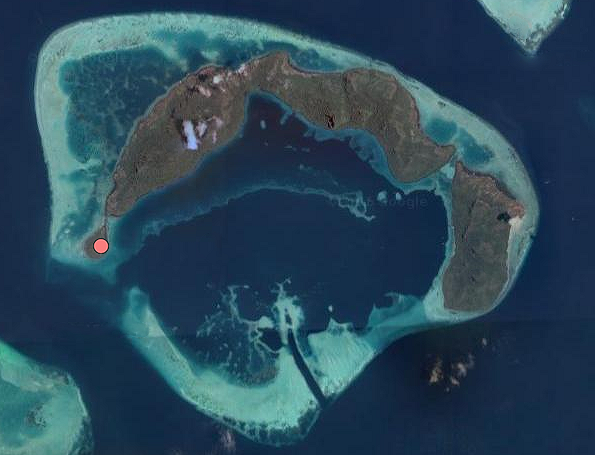 Pulau Tetagan has an area of 30.25 hectares and rises to a maximum of 80 metres. It has a lower elevation compared to the neighbouring Bodgaya Island. The shore is rocky here and there and the slopes are quite steep. The narrow strip of beach on the north-western side widens into a spit – a land mass resulting from a sandy deposit at the edge of the land – at the northern edge. It is connected to Bodgaya via a narrow channel.
Tetagan was once a thriving island with a vibrant community of Bajau who were actively involved in fishing and cultivation. There was a time when nearly 250 people lived there. But most of them left starting from the 1950s when the government introduced some resettlement schemes to help the indigenous people. Tetagan island became practically empty of people by 1980. The only relic of the community today in Tetagun is their burial ground.
Origins & Myths Of Tetagan
Tetagan is believed to get its name from being linked to Bodgaya Island during low tide because the word 'tetagan' means 'interconnecting' in Bajau language.
A myth surrounding the name is that Tetagan had derived from 'tetag', meaning 'slash' or 'hack' because the island was once the abode of a savage who chose to wound all entrants to the place.
Finally, in the language of the Bajau, the word also means 'hospitable site', probably hinting at the fact it was a place that welcomed early settlers.
What to do in Tetagan?
Tourists mainly visit Tetagan Island to observe the lifestyle of the Bajau Laut – the Sea Gypsies – living in the nearby islands of Bodgaya and Bohey Dulang. Visitors can also observe the residues of history the Bajau community left behind in Tetagan.
Where to Stay in Tetagan?
The uninhabited Tetagan has no provision to support tourists' stay. Visitors opt to stay in the Bornean city of Semporna or in the nearby islands of Mataking, Pom Pom, Singamata, or Mabul.
There are no resorts or hotels in Tetagan. Visitors usually stay at nearby Pom Pom Island, Mataking Island, Singamata or in Semporna.
How to catch a Boat trip to Tetagan?
Contact us for more information about Tetagan.