Seaventures is a Dive Resort made from a converted oil rig offering the perfect location for non-stop diving.
Click here to Book your Reservation (Special Online Discount)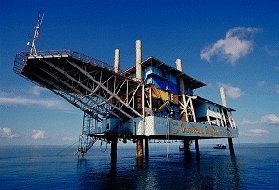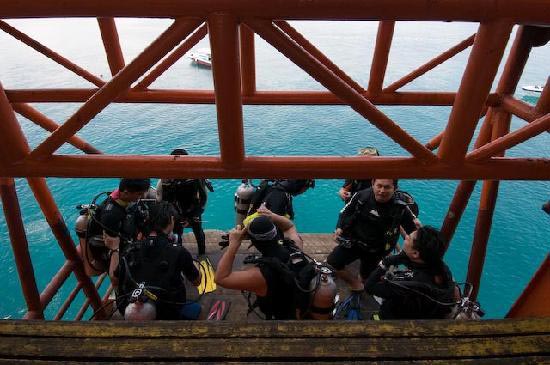 Seaventures is located next to Mabul island and offers comfortable air-con rooms.
Diving at Seaventures
Seaventures is itself a famous dive site and offers unlimited diving under the resort.
The dive packages at Seaventures include unlimited diving at its own famous dive site and house reef (just below) as well as guided boat dives to Sipadan, Kapalai and Mabul islands.
Diving at Sipadan with Seaventures is an all-day affair that offers far more than just one dive.
Departing as early as 6 am, divers could be in for a treat watching the odd-looking bumphead parrotfish school moving from Barracuda Point to Mid Point in search of breakfast. If they're lucky, divers might get the chance to see them swimming back across the reef, munching the corals as they go.
Seaventures Extra Boat Dives to Sipadan Island
An early start to Sipadan means that divers can enjoy a beautiful sunrise and cram 3 fantastic dives in before lunch time, and all that before the dive sites get too crowded. Divers can opt for a hearty lunch at this point or choose to go back to Sipadan island for 2 additional boat dives (subject to availability)!
The Seaventures House Reef and the dive sites at Mabul Island are also options for those who have spent the morning at Sipadan.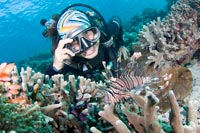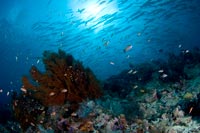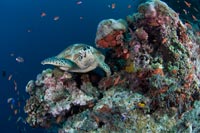 PADI 5* IDC Resort
Seaventures is a PADI 5* IDC Resort offering technical diving such as cave diving at the infamous Sipadan's Turtle Tomb.
The course director also offers dive courses up to PADI Instructor Devellopment Courses and Tec Instructor Courses (Tec 40, Tec 45, Tec 50, Tec Deep, etc).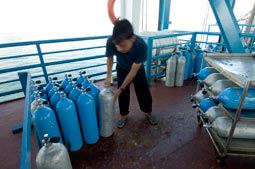 Dining
The restaurant is located on the open deck and offers delicious food and beverages - buffet style. Fresh coconuts are available.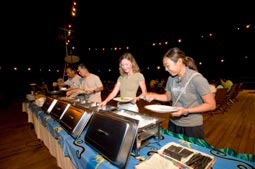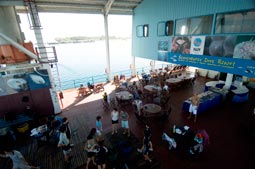 Other Seaventures Facitilies
Other facilities include a movie room, a karaoke lounge and bar, pool tables, table tennis, a souvenir shop and a conference room. There is broadband Wifi access and a camera room for your UW housing and strobes.
Seaventures Rooms & Cabins
Seaventures Dive Resort offers 28 well-furnished air-con twin and double rooms and 2 larger VIP Family rooms for that extra bit of space and additional comfort.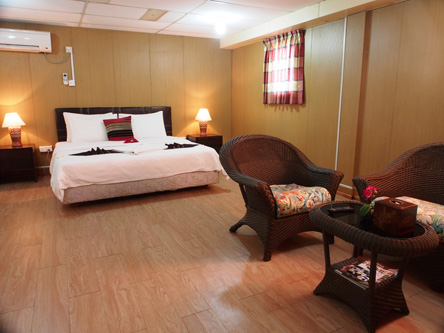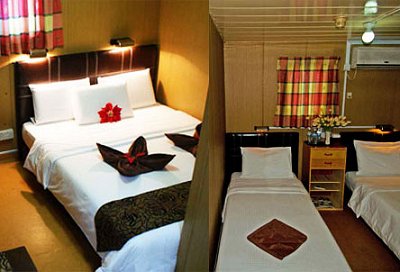 There are 4 room types for guests and aims is to cater to a variety of budgets. There are 16 standard rooms with twin beds and 7 standard rooms with double beds. For a small increase in price, you can get a much larger room and additional home comforts with 1 of 2 VIP rooms.
Details of each room type can be found below
Standard Room
Twin and double bed arrangements available
Air-conditioning
Private hot shower
Fresh bedding and towels
Sized at 12.1 m² (130.5 ft²)
VIP Family Room 2
King-size double bed
Air-conditioning
Living room with sofa
Hot and cold shower
Ensuite bathroom
Suitable for families or couples on honeymoon
Extra bed in option
Sized at 27 m² (290.3 ft²)
VIP Family Room 1
King-size double bed
Air-conditioning
Spacious living room with sofa
Hot and cold shower
Ensuite bathroom
Suitable for families or couples on honeymoon
Extra bed in option
Sized at 41.1 m² (442.5 ft²)
Dormitory Room
For divers on a budget, there is also a quad sharing dorm room.
Bunk-bed style sleeping
Air-conditioning
Personal locker
Communal hot shower facilities
Sized at 12.1 m² (130.5 ft²)
Prices are subject to change and availability, rates vary according to the type of room.
Book your reservation online to receive a special discount.
Customer Reviews & Ratings
"I was diving with Seaventures for a second time. I chose to come back because that resort set-up is so convenient for divers. The rig makes it easy to access all the diving sites. I took their cavern diving course which is only offered by Seaventures Dive Rig. Dan, my instructor, was patient with me and taught me about the caves and how to use reels in the dark. We first practiced at the rig before doing three dives in Sipadan Turtle Tomb. Now I know how to use reels when diving even in the dark. I felt such a sense of accomplishment afterwards. It was such a memorable dive which I have Seaventures to thank for. In addition to diving the Sipadan cave, I saw a lot of pelagic and marine life on my Sipadan dives. There were bumphead parrotfish, a school of barracuda and lots of huge sea turtles. Under Seaventures, there were beautiful, tiny marine creatures like harlequin shrimp and ribbon eels just hanging off the bottom of the rig." Richard Cox, Miami, Florida
"Our group of eight people holidayed on the Seaventure Dive Rig. Five of us dived while three snorkelled off the rig each day. All of us had a terrific time and agreed that the sites we visited were amazing. The staff and the dive instructors were wonderful. I was especially thankful for the chef who took my dietary needs into consideration and made special meals for me each day. The meals were delicious and hit the spot." Wang Zhao, Beijing, China
"We had two days of diving at Sipadan during our six-night stay on the Seaventures Dive Rig. Our room was confortable and roomy and the air con was quiet and worked well. The buffet dining included lots of healthy fruits and vegetables and was really good.The dives off of the rig were on artificial reefs where we saw plenty of marine life. We were aware that some currents could be strong in the area and we were careful to stay away from those ones. The currents at Sipadan were just right and the diving was incredible. We did afternoon dives at the artificial reefs on two other islands. Both of them had lots of marine life, pelagics for Sipadan and Muck diving around Mabul. We did, however, see many sea turtles swimming around Mabul island. Tark, our dive guide, had eagle eyes and a lot of knowledge which he shared with us. He and the boat captain were both very safety conscious. We had such fun! " Yvonne Liu, Singapore
"I live in Singapore, close to some great dive sites in nearby Indonesia, but my experience at Sipadan has surpassed all of them. What's unique about this location is the Seaventure Dive Rig which adds an interesting element to the holiday. This is not a 5-star hotel stay, but for those who prefer fun over luxury, it's a perfect choice.We did a four day, three night dive holiday on the rig and would have had no problem staying longer. The crew were all super nice and went out of their way to see that our needs were taken care of. They fed us delicious food which was exactly what we needed to keep our energy up for the 3+ dives we did each day. Yes, 3 dives off the rig with the option of as many more buddy dives around it as we liked. When we'd had enough diving for the day, we lounged on the sun deck or checked out the games room for something fun to do. The best part of our stay was the dive we did around the rig at night rig. It felt like our own personal marine park. I doubt we'll ever have the chance to do a solo night dive again. Seaventure offers PADI certification so we did the open water advanced course. Helmi, our instructor, made sure we had an amazing experience." , Singapore
"I had an incredible time at Seaventures. The diving was spectacular and I saw a lot of underwater creatures. The rig was comfortable and I enjoyed just chilling on the deck. I watched the sunset from the rooftop every night and later, went down into the games room to watch a movie. I haven't got the words to describe just how wonderful the staff were. They were friendly, took care of all their guests and really made me feel at home. They kept us all laughing while being very professional at the same time. I was sorry when it was time to leave." Elizabeth Wolfe, London, UK
"The diving was amazing and the dive staff was very friendly and always helpful. Seaventures is a unique experience as it is a converted oil rig. This resort is mostly dedicated for divers. All the divers in my group were advanced which was good. The buffet food was really delicious and varied." Jessica Lim, Singapore
"Fantastic experience to stay for a week on an oil rig. The cabin was fine, clean and comfortable with A/C. Diving twice at at Sipadan was the best. The diving equipment is in very good condition and the dive center is well run and organized." Mike Ferguson, Brisbane, Australia
"We chose to stay in the VIP room and it was really spacious and comfortable. Very good service with friendly staff. The DMs were excelling at showing us the tiny macro around Mabul and Kapalai islands. Overall, very positive feedback about Seaventures, a well run resort on a unique setting." Franz Hess, Stuttgart, Germany
"The dive staff was really helpful, taking care of our diving equipments very well. The view from the rig is amazing as it is high up (access is via a lift). There is wifi everywhere. The food was plentiful and delicious. I saw the barracuda tornado in Sipadan and dozens of turtles. Under the rig is an excellent dive site for macro photography also there can be a bit of current at times on the surface." Wilfred NormanBoulder, Colorado, USA
Send an Enquiry
(Special Online Discount)