Borneo Divers Mabul Resort is ideally located on a pristine stretch of white sand beach on the island of Mabul. Easy access to the water provides for effortless shore and boat diving.
Click here to Book your Reservation (Special Online Discount)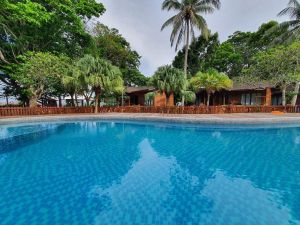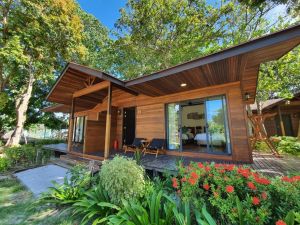 Dining
The dining hall is the center of social life at the Borneo Divers resort.
Our Chef specializes in Malaysian, Thai, Chinese, Japanese and Western Cuisines.
All meals (breakfast, lunch and dinner) are served buffet style.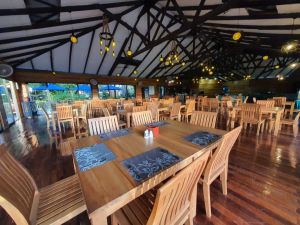 Chalets & Villa Rooms
Borneo Divers features 30 Deluxe semi-detached Beach Chalets and 62 villa rooms.
All the beach chalets have now been renovated tastefully decorated and upgraded to Deluxe level. These spacious and comfortable semi-detached chalets offer ethnic touches such as beautifully hand-carved lamps, hand-woven tapestries or other cultural pieces.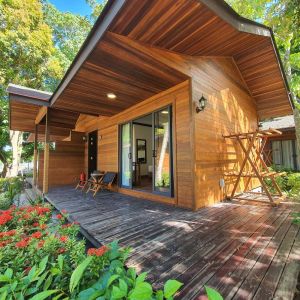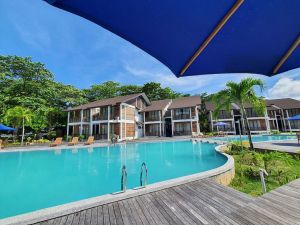 Semi-detached Beach Chalet facilities:
Air conditioning
Ceiling fan
Private Ensuite bathroom
Hot and cold water showers
Available with twin or double beds
Tea and coffee making facilities
Safety-deposit box
Dressing table
Hair dryer available on request
Size 180 ft² or 16.7 m²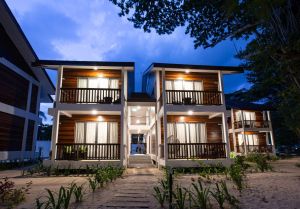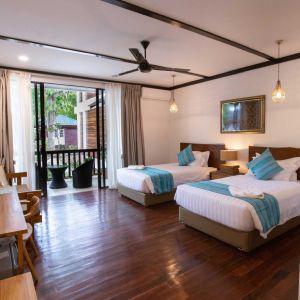 Spa
After a day of scuba diving, guests can relax and have a massage, therapeutic reflexology or manicure at the beach gazebo or in their own room.
There is also the newly opened Ayer Spa which located near the beach bar on mabul island.
The Borneo Divers bar lounge at the jetty is the perfect place to chill and relax after a day of diving or snorkeling.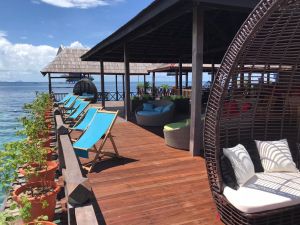 Resort Facilities
The Borneo Divers Mabul Island Resort features the following facilities:
Restaurant and Dining Hall
Swimming pool
Event and conference hall
Bar (3 including one sunset beach bar)
Recreational and sport facilities
Professional underwater photo and video services
Full service PADI 5* IDC Dive Center
Library and Satellite TV room
Gazebo Spa
Jacuzzi
Gift & Souvenir Shop
Free WIFI broadband internet access
Scuba Diving
Borneo Divers is a PADI 5* Palm Resort and was built with divers needs in mind.
Borneo Divers was the first dive center which made Sipadan known around the world.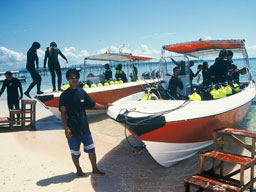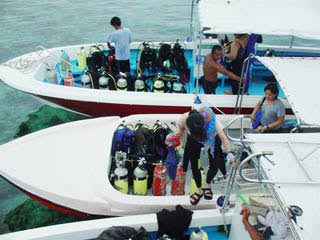 Non-Diving Activities
Borneo Divers has a variety of activities that will keep you entertained while not diving.
Spa offering massage, manicure & pedicure
Snorkeling
Mini Soccer Field
Beach Volley
Beach Loungers and Umbrellas
Board Games
Babysitting Services
Click here to Make a Booking (Special Online Discount)
Customer Reviews & Ratings
"My boyfriend and I went to Pulau Mabul and Sipadan because they are two of the top diving sites on Earth, but we had an awesome time at this resort as well. We both agree that the Borneo Divers Mabul Resort is likely the best place to stay if you are visiting the Sipadan area. The staff were sweet and professional and the food was fresh and yummy. We had a roomy chalet with a comfortable bed that was set amongst lovely gardens. We especially enjoyed lounging in the swimming pool between dives." Jayne Dawson, London, UK
"Sipadan Island is a paradise for divers with an amazing amount of marine life. I feel very lucky that I was able to spend three days diving there. I'm an avid diver and have been to dive sites all over the world. In my opinion, nothing compares to Sipadan. The coral reef is pristine and has brilliant colors and is alive with a huge variety of tropical fish. I saw the huge barracuda tornado, white-tip sharks and enormous schools of jackfish to name a few. I even spotted a whaleshark!" Yang Xuegang, Shanghai, China
"I was so happy with my stay at this resort. It is located conveniently near to Sipadan and from Semporna to Mabul it is a quick half-hour boat ride. Anyone planning a dive at Sipadan should consider it. My chalet was ideal. The bed was comfy, the bathroom was nice and I had both air conditioning and a fan. There is a swimming pool at the resort as well as a lovely area by the beach to chill out at. I liked the buffet very much. There was a nice blend of European and Asian food which was all delicious and there was plenty of it. But more than anything, it was the staff that really made my experience amazing." Su Ann, Los Angeles, USA
"Borneo Divers is always my first choice of places to stay when I am on Mabul as it is one of the most popular resorts for divers to Sipadan. The staff go out of their way to be helpful and the resort is well kept. The food is tasty and they have a nice choice of both Western and Asian dishes. The dive instructors at the center are very knowledgeable and they have a working experience of all the diving sites around the island. The arrangements you make with the dive center for Sipadan are all guaranteed." Scott Berry, Durham, UK
"Borneo Divers Mabul Resort was a very good choice of accommodation. Their chalets were roomy and the staff were lovely. Management listens to the feedback given by their guests and makes changes that they hope will improve the enjoyment level for others." Andy Thompson, Perth, Australia
"My stay at Borneo Divers Resort was amazing. Excellent dive guides with lots of knowledge and experience. Very good accommodation with delicious buffet style (mostly Asian cuisine)." Ivan Woods, Auckland, New Zealand
"The resort is very nice with a swimming pool. The staff was friendly and well organized. The buffet meals were really good." Ojal Kamdar, Bangalore, India
"Very good service and facilities, clean, safe and comfortable. I tried scuba diving and the diev instructor was very friendly and patient." Matthew Baker, Brisbane, Australia
"Thanks to the very helpful and friendly staff. My dive instructor was very patient and knowledgeable. The buffet food was good." Susan Goh, Kuala Lumpur, Malaysia
"Very professional dive resort, both from a diving and from a stay point of view. Sipadan is a must, and the good thing about Borneo Divers was that we could book in advance and guaranteed permits." Jan-Hendrik Lulof, Amsterdam, Netherlands
"The divemasters are excellent at spotting macro around Mabul and Kapalai islands. The dive gears are in very good conditions. Sipadan is a must." Yang Liu, Shanghai, China
"The chalet, facilities, diving gears were great. Our dive guides were fun, knowledgeable and we felt very safe. The food was good and with a variety of choice. The staff was friendly and smiling." Patricia Wood, London, United Kingdom
"Diving gears were all in top conditions. The Borneo Divers dive center operations are well run and organized, especially knowing the traffic. The dive staff was very professional and attentive. We dived 3 out of 5 days at Sipadan which was really lucky. Mabul and Kapalai are excellent for macro photography." Olga Dmitrievich, Москва, Russia
"Good dive facilities and very good divemasters. The resort is nice also not as luxury as some of the nearby over-the-water resorts and when we were there, most guests were from China." Diana Vincenti, Roma, Italy
"Nice clean rooms, delicious food and friendly staff. Nice swimming pool, beach and gardens. We took a 6D/5N non-diving package were lucky to be able to go snorkelling to Sipadan twice." Pei Ying, Singapore
Send an Enquiry
(Special Online Discount)