Sipadan Mabul Resort is a luxury resort located on south-east side of Mabul Island and is overlooking nearby Sipadan island.
Click here to Make a Booking (Special Online Discount)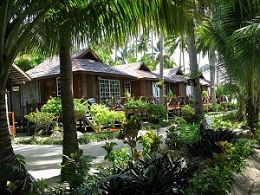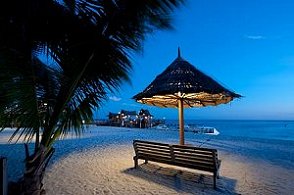 Sipadan Mabul Resort is nestled in a coconut grove and offers beautifully designed wooden air-con chalets builts next to a beautiful strech of white sand beach.
The resort has 25 chalets with 22 stand alone chalets and 3 suite chalets. All the chalets are built with native Borneo materials, have ensuite bathroom with hot shower, air-con and mosquito screens.
Diving with Sipadan-Mabul Resort
Sipadan-Mabul Resort is a PADI Gold Palm Resort.
The dive centre at Sipadan-Mabul Resort features high quality dive equipment for rent and also offers technical diving courses for those interested in certifying with Nitrox or leaving with a TDI certification. There is even a course for budding underwater videographers with digital camera gear to rent to test out new skills and ensure your muck diving memories last a lifetime.
SMART-TEC dive center offers Nitrox Air and Technical International (TDI) Certification Courses.
The TEC center is perfect for Technical Divers diving the waters of Mabul or Sipadan and offers full Cave Diver courses and guided dives to Sipadan's famous turtle tomb.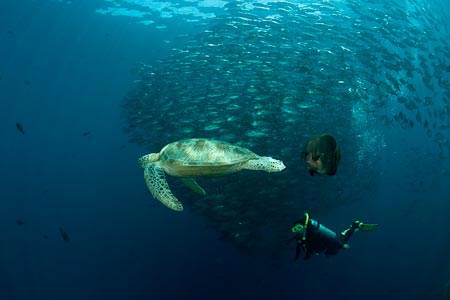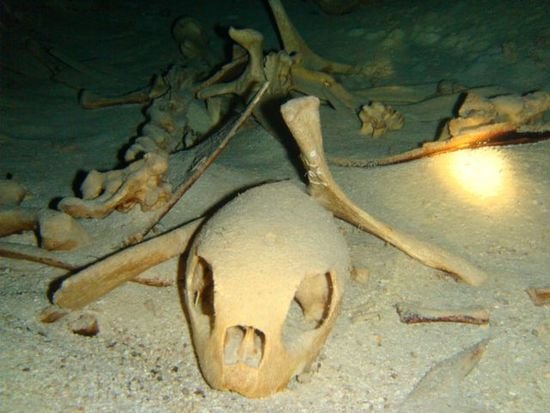 A filming and underwater video center can provide underwater videography services and courses.
Sipadan Mabul Resort dive centre is well equipped with over 180 aluminium tanks along with 4 Bauer compressors.
Sipadan Mabul Resort uses six custom built fiberglass dive boats able to carry 10 divers each and get to any of the island dive sites in about 15 minutes. Each boat goes out 3 times a day.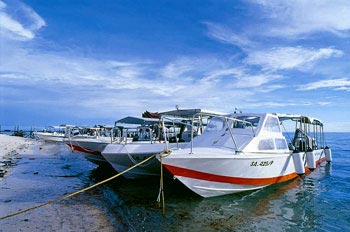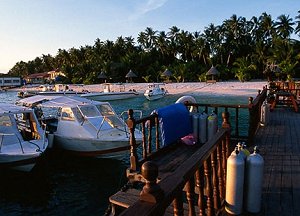 At SMART Divers Resort, you NEVER carry a heavy tank, not even a few metres.
Muck Diving in Mabul
The area surrounding Sipadan-Mabul Resort offers some of the highest-rated muck diving sites around, and with 3 guided boat trips per day there are plenty of opportunities to get as many muck dives in as possible.
In addition to daily boat dives, SMART offers unlimited dives in front of the Resort's jetty or at the house reef (inclusive of night dives).
There is even the opportunity to do sunset dives and night dives and unlimited self-guided beach dives available. Each boat is accompanied by a qualified and knowledgeable Divemaster who would be happy to show the wonders of the local environment. For this and many other reasons, Sipadan-Mabul Resort is a solid choice for muck diving enthusiasts looking to explore the area.
Dining
The restaurant is located under a large open air pavillion and is used for delicious buffet style meals and sometimes shows. A selection of fresh juices, coconut drink, sodas, beer and wine can be purchased at the resort bar and jetty bar.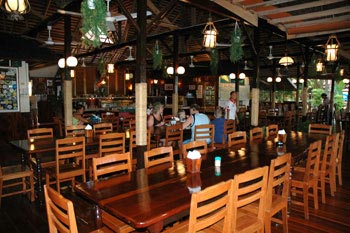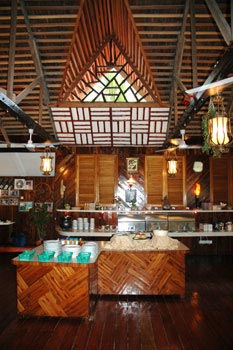 Buffet breakfast consists of cereal, toast, tea, coffee, fruits, eggs, porridge and asian dishes.
Other facitilies
Other resort facilities includes a swimming pool, a jacuzzi whirlpool spa, the dive centre which provides diving, snorkelling and ocean kayaking equipment for rent, spa and massage services, broadband internet access, a bar, a souvenir shop, video services, 24h staff on call and tour desk.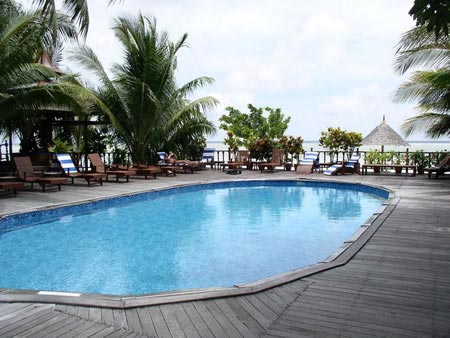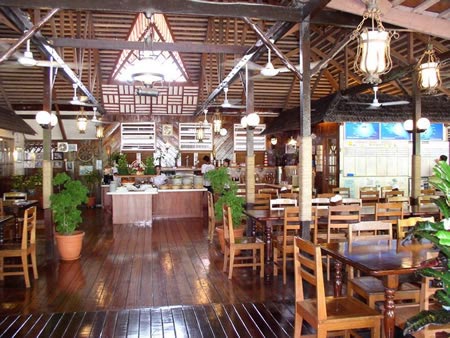 Chalets and Rooms
There are 25 beautifully designed duplex chalets: 22 detached (stand-alone) and 3 suite chalets on offer at the Sipadan-Mabul Resort. All accommodation options come equipped with air-conditioning and ceiling fansalong with large double beds or single beds, traditional Borneo furnishings and en-suite facilities.
Stand Alone Detached Chalets
The stand-alone chalets have completely private balconies with ocean views and are similar to a small, stand-alone house ideal for couples or a family getaway.
Air-conditioned with ceiling fan
Hot and cold water
Own private balcony available through large patio door
Windows with fly-screen
Mini bar
Tea and coffee facilities
Safety-deposit box
Added comfort and space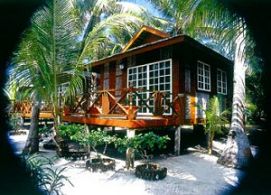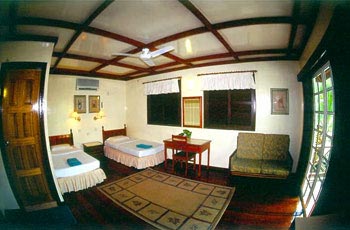 Suite Chalet
The exclusive suite is of course much larger than the stand-alone chalets, and boasts a living room in addition to the luxurious bedroom and private balcony.
Largest chalet on the rest
Bedroom separate from living room
Air-conditioned with ceiling fan
Hot and cold water
Colour TV with DVD player
Own private balcony in front
Mini bar
Tea and coffee facilities
Safety-deposit box
All rooms come with air-con, two oversized single beds, ceiling fans, mini-bar, couch, electric point (220V), flyscreened windows, ensuite bathroom with free-flowing hot and cold water, front verandah.
Sipadan Mabul Resort diving package includes:
Land / Boat transfer from Tawau to Semporna Jetty - Sipadan Mabul Resort (return)
Chalet Accommodation on twin share basis
3 boat dives per day - Mabul - Kapalai - Sipadan
Unlimited jetty's Mabul House Reef diving
Use of tanks with air, weights and weight belt
All meals and beverage (excludes alcoholic, fruit juice, and carbonated soft drinks)
Taxes
Note: Please take note that the permit to Sipadan Island is not guaranteed for shorter stays. Divers will be put on the Sabah Parks waiting list. Chances for diving Sipadan are higher if the guest stays longer (2+ nights at least). Should the Sipadan permit not been approved, Sipadan Mabul Resort can offer alternative diving at nearby islands such as Kapalai, Mataking, Si Amil or Ligitan, where there are no restrictions.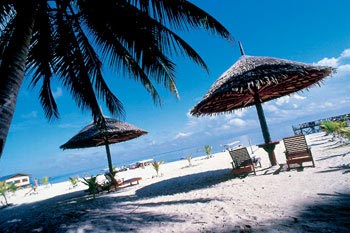 Sipadan Mabul Resort non-diving package includes:
Land / Boat transfer from Tawau to Semporna Jetty - Sipadan Mabul Resort (return)
Chalet Accommodation on twin share basis
All meals and beverage (excludes fruit juice, alcoholic and carbonated soft drinks)
Boat snorkeling
Taxes
Booking is advisable at least 30 days in advance. Late booking is available subject to availability.
Book your reservation online to receive a special discount.
Customer Reviews & Ratings
"We are delighted that we chose the Sipadan Mabul Resort for our honeymoon because it was the highlight of our trip to Sabah. The resort itself was great and the staff made us feel so cared for. They were attentive and their thoughtfulness did not go unnoticed. Our stand alone chalet was certainly large enough for the two of us and it was set in the beach area with stunning seaviews. The meals served at the resort were quite good too. While we were there we had a fabulous time diving. Sipadan has to be one of the most gorgeous dive destination in the world. We highly recommend it." Malcolm Murray, Perth, Australia
"I was fortunate enough to stay at the Sipadan Mabul Resort while I went on a diving vacation. I must say that the diving was exceptional. It was well organized by the resort and it was run smoothly. I think I enjoyed the resort just as much as the diving. The suite chalet had a stunning balcony that looked out onto the ocean. There were tall palm trees and beautiful, native flowers blooming all over the resort grounds. I found it so peaceful and quiet sitting in such a gorgeous setting. It was a perfect escape! The diving on the island did not disappoint either. The muck diving at Mabul was terrific and the artificial reef there was a unique experience. The dive sites at Sipadan were truly exceptional. I would recommend both Mabul and Sipadan islands for any dive enthusiasts." Kevin Adams, Boulder, Colorado, USA
"The resort is an ideal spot for diving as the currents are light and there is plenty of macro marine life to see around Mabul island. At Sipadan, we saw lots of very large sea turtles, white-tip sharks, squids, huge baraccudas and bumphead parrotfish thrive in the waters surrounding the island. Visibility is said to be best from March till October, although divers with an Open Water scuba certification will be pleased to know that marine life can be easily spotted without the need to deep dive. Our stay was an all-inclusive package one. Our accommodation, diving, meals and airport transfers were all paid for in advance. We were booked into a lovely chalet, conveniently located near the pool and jaccuzi. It had everything we needed including a sitting area, a huge bedroom with an ensuite bathroom and a bar fridge. The staff were very helpful. They went out of their way to make us feel special." Caroline Smith, Oxford, England
"SMART divers had a terrific team who were all professional and super knowledgeable. I would recommend that you book the more expensive package with the permit included and even consider adding on the early morning Sipadan dive for only a few ringgits more. Barracuda Point absolutely blew me away. For starters, the 50 metre visibility was amazing and the coral reefs were exquisite. There were sharks, bumphead parrotfish and turtles everywhere, and of course schools of barracudas. I saw so many schools of fish that I can't even name them all. " Nurul Jaya, Kuala Lumpur, Malaysia
"I am a dive instructor and have spent more than ten years leading diving expeditions myself. Sipadan Mabul Resort is a real dive resort without all the bells and whistles. That being said, the accommodation is comfortable and everything they offer there is of very good standards. I found the staff to be helpful and management was great. It was easy to get advice or even have a nice chat with any of them. The resort does offer exceptional diving, however. The dive staff are terrific and very knowledgeable about the local dive sites. The underwater biodiversity was amongst the best I have ever seen. I was lucky enough to see a Great Hammerhead on my dive which I was told was very rare. Barracuda Point was breathtaking with swirling arracudas and the nearby dive walls were awesome. I absolutely loved West Ridge. The muck diving around Mabul and Kapalai was fun and I was surprised how much there was to see. There were Flamboyant Cuttlefish, Crocodile Fish, Giant Cuttlefish, frogfish, ghostpipefish and nudibranchs of all sorts." Ella Lee, Seoul, South Korea
"I went to Sipadan to dive and Sipadan-Mabul Resort really delivered. The marine life was just incredible from macro to pelagics. My divemaster was so good that he never missed even the smallest and rarest critter. The beach resort, had excellent services and amenities. What I specially appreciated was that they provided buggies to drive everywhere we wanted." Mathew Bennett, London, UK
"We stayed at Sipadan-Mabul Resort and dived at Sipadan, Mabul and Kapalai. This was really fantastic experience as there was an abundance of marine creatures from macro in Mabul to the big fishes of Sipadan. I really liked the beach chalets. The room was clean and comfortable and the view was beautiful. Absolutely no complaints about the food also – meals were excellent with plenty of variety." Nicolas Dubois, Paris, France
"I really enjoyed my stay at Sipadan Mabul Resort. I landed in Tawau Airport and from the pick-up to the return, everything was great – the cuisine, the staff, the divemasters, the chalets, etc. I sure will come back here next time." Vicky Moore, Perth, Australia
"We were planning to stay at the beach resort which was very nice but after a couple of nights we decided to upgrade for the super luxury over-the-water resort (Mabul Water Bungalows). The whole place is so beautiful that it is a really peaceful experience. We also went to the spa which is overlooking the ocean, it was really magical and relaxing." Mike Köppen, Frankfurt, Germany
"We had a perfect holiday at the Sipadan Mabul Resort. I opted for the 6D/5N diving package while my wife preferred the snorkeling package which was also excellent. Our time spent on Mabul island there was really enjoyable. The divemaster was highly experienced and a good spotter. Viz was great in Sipadan which made is an unforgettable scuba diving experience. I have rarely seen so much marine life and pristine coral reefs. The artificial housereef of the resort is also fantastic with a lot of macro marine life. The full-board option was excellent with delicious meals 3 times day." Liao Guang, Hong Kong
"I really liked the overall atmosphere of the place, very relaxing. The beach resort was beautiful with and the service was excellent with friendly and always available and helpful staff. The buffet food was really good with a wide variety of choices." Thomas Riedel, Zurich, Switzerland
"The transfer from the airport to the resort was smooth and I enjoyed the boad ride from Semporna to Mabul. Food was great and plentiful (mostly asian style). The Divemasters were real pros and with very good eyes which is important. Diving is always my first choice but after going to Sipadan, I can say that snorkeling can be an equally attractive, if not a better option there. The detached beach chalet was really good, clean and comfortable. Wi-Fi was available only in the dining room, but I did not feel that it was too much of an inconvenience. The Sipadan-Mabul Resort, where I stayed, was good but the real luxury is at the stunning nearby Mabul Water Bungalows. If you can afford it, you should treat yourself and choose these over the water bungalows." Enrico Martinez, Barcelona, Spain
"I spent a week and dived a lot in Sipadan, Mabul, and also at Kapalai. The dive sites are amazing especially Sipadan. Mabul and Kapalai are excellent for macro photography. The divemasters were veterans and really helped to spot the various macro species. In every way, this is a perfect holiday spot for divers!" Slava Ivanovich, Moscow, Russia
Send an Enquiry
(Special Online Discount)