Uncle Chang Sipadan Mabul Dive Lodge is located on Mabul island in the village on the opposite side of the luxury resorts of Mabul Water Bungalows and Sipadan-Mabul Resort.
Uncle Chang offers backpackers with simple water chalets, dorm rooms and daily trips to Sipadan island.
Click here to Make a Booking.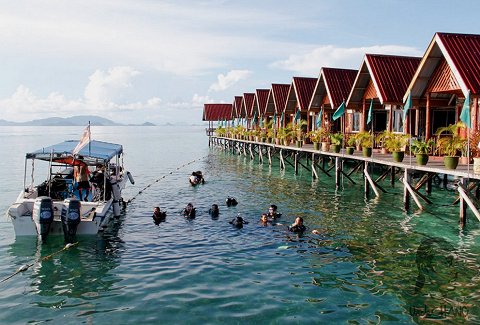 These lodges on stilts are made from wood and built either dorm style longhouse or are chalet built on stilts out at sea.
Double, twin, dorm, family and seaview rooms options are available.
Uncle Chang dive lodge provides adventurous divers, snorkellers and marine life enthusiasts an affordable and enjoyable place to stay on Mabul Island, and to share the amazing natural wonders off the coast of Uncle Chang humble hometown Semporna, Sabah, to those who seek them.
Uncle Chang Sipadan Mabul Dive Lodge's team is committed to the environment and to sustainable ecotourism. This means running a diving lodge that uses minimal resources and makes as little impact on the environment as possible, particularly Sipadan and Mabul sensitive marine ecosystem which we and just about everyone on Mabul depend on for our livelihoods.
Uncle Chang Sipadan Mabul Dive Lodge hires locals because sustainability also means helping to generate income and employment for the community here. This also gives them a stake in the ecotourism industry and therefore in the protection of the local environment, thus helping to discourage unsustainable economic activities such as bomb- and cyanide-fishing.
Uncle Chang Sipadan Mabul Dive Lodge provides a safe, fun and unique experience for all who come to dive with us. The dive instructors and divemasters are PADI-certified, experienced, and generally awesome to be with. Above water, you may find yourself clinking bottles, singing the Sipadan Song, and jamming rock'n'roll classics with them along with the rest of the staff. Not a dull moment passes here, in or out of the sea. Before they know it, people are often extending their stay.
Finally, Uncle Chang Sipadan Mabul Dive Lodge are committed to providing you an affordable adventure experience. The living quarters are not like a five star resort's but they are clean, safe, and fitted with basic amenities. This is meant to keep your holiday focused outdoors and not inside an expensive box, so to speak.
Mabul Rooms
Live like the locals do!
Ah... to wake up to the Celebes Sea right out your door, right under your feet! If you want to be as close as possible to all the best dives spots throughout your stay, you owe it to yourself to stay on Mabul Island. And if you want to stay at the most happening place on the island, it's definitely at Uncle Chang's. The bright yellow lodge is a wood-built complex standing on stilts above lovely clear waters, indeed not unlike a traditional house typical of Borneo's many sea villages.
Located on the western coast of Mabul, the lodge is witness to postcard-ready sunsets that begin every one of the lively evenings.
We provide clean and comfortably basic accommodation. Living quarters and facilities are reasonably spartan, but food, drink and entertainment would fill much of your waking hours under the roof, at no extra charge.
Jewels of Semporna
Off the east coast of Borneo, the Celebes Sea thrives as one of the richest of marine habitats. Its jewel is the famous Sipadan Island, frequently voted as one of the world's top ten dive sites. Meanwhile, nearby Mabul Island is gaining recognition as one of the best muck diving and macro dive sites in the world. Mabul's neighbour Kapalai Island offers a bit of both.
SIPADAN
Does the world lie on the back of a gigantic turtle? We don't know, but we can tell you that Sipadan just might be the centre of the turtle universe. Sea turtles are an endangered species worldwide but this is one of the very few places where close encounters are guaranteed on every dive.
It was the sea turtles that first put the island on the map when it became part of Sabah's turtle egg native reserve in 1964. Later a 1989 Jacques Cousteau documentary called Ghost of the Sea Turtles launched Sipadan into legendary renown. The late oceanographer described it: "I have seen other places like Sipadan, 45 years ago, but now no more. Now we have found an untouched piece of art." Till this day, divers speak of Sipadan as among the best diving spots on Earth, featuring many unique highlights.
The island was formed by corals growing atop an extinct undersea volcano over thousands of years. Sipadan is pretty much a column of rock rising 600m (2000 feet) from the sea floor, poking out of the ocean 10km (6.2 miles) south of the continental shelf. Enveloped in strong, nutrient-rich currents in the middle of the Indo-Pacific basin, many thousands of species converge here in this ecological city of wonders.
Some of Sipadan's signature spots:
Drop Off
You can see for yourself the unusual nature of Malaysia's only oceanic island most dramatically at the Drop Off. This is at the northern end of the island, where the shallow sand mere steps away from the beach plunges into a deep, vertical wall of reef that's teeming with life and great for snorkeling and shore diving.
Turtle Cave
Near the Drop Off and 20 metres underwater is the mysterious Turtle Cave, also known as the Turtle Tomb. Skeletons have been found of turtles that had lost their way and drowned inside, earning the cavern its names and a folk belief that this was the final resting place of turtles. Proper training and equipment are required to fully explore this cave system, without which you could suffer the same fate. But swimming just a few meters into the cave is thrilling enough, if only for the majestic view of the deep blue sea out from inside.
Barracuda Point
This is a prized spot on Sipadan for the sheer mass and variety of marine life visible. As the name suggests, it's famous for the vast schools of barracuda and also trevally forming spectacular vortex formations, a much sought-after sight to behold. Reef sharks, octopus, morays and more can be found here too.
South Point
At the opposite end of the island, facing the vast open ocean, South Point is a prime place to watch big, pelagic life forms. Sharks, rays and turtles swarm this area in legions. For macro life lovers, the reef walls here are teeming with plenty, as they do on all sides of the island.
West Ridge
The west side, the deepest walls of Sipadan, is the part best explored in the afternoon when the sun shines here, illuminating a rainbow of corals, fishes and anemones. Somewhere along here are the Hanging Gardens, where sea fans and soft corals splendidly hang down the ledges and down the walls.
MABUL
When Sipadan was stripped of all commercial structures in 2004 as a long-term measure to preserve and rehabilitate the island's natural state, some dive operators moved to Mabul Island, located 25 minutes away, to make it their jump-off point for Sipadan dives. A whole new chapter of discovery soon opened when macro divers found Mabul itself to be a haven of exotic critters. It has since emerged from the shadow of its famous neighbour as a world-class dive destination in its own right.
While Sipadan is coral-encrusted, awash in strong currents, and known for large and swarming pelagic fauna, Mabul offers a completely different experience: mostly silt and debris in calmer waters and a bustling home of the small and strange. Muck diving is the name of the game here, where curious divers take their time to scan the floor and inspect closely for myriad interesting species including seahorses, nudibranchs, eels, and so much more. Many a photographer has surfaced from the waters of Mabul with incredibly rewarding, sometimes award-winning shots.
Some of the popular spots at Mabul:
Froggy Lair
Amid the nooks and crannies in rocks and sometimes rubbish like old tyres, there are plenty of critters thriving. Keen eyes will find wonderful varieties of nudibranchs, garden eels, mantis shrimps, and typically at this site, frogfish of many sizes and colours. Lucky divers may even encounter the M. pfefferi (Pfeffer's Flamboyant Cuttlefish) and the blue-ringed octopus.
Crocodile Avenue
Don't worry, no crocs here. In fact you wouldn't spot this site's namesake, the harmless and well-camouflaged crocodilefish usually lying on the sandy bottom, if you aren't sharp enough. With the same attentiveness you may find a handful of seahorses hanging around in patches of weed.
Seaventures Platform
Seaventures is a decommissioned oil rig may be an eyesore and perhaps the last place you'd consider diving beneath, but the view underwater is a different story: the structure shelters an Eden for muck divers. Classic colourful encounters including frogfish, lionfish and nudibranchs are common, and giant moray eels are among the larger life forms here.
Old House Reef
Several dive operators collaborated to build an artificial reef, sinking old boats and multi-shaped constructions that eventually flourished into a playground of marine life. The project was such a success that the reef seemed to have become a mini Sipadan, attracting an array of fauna. Schools of trevally frequent this place and giant stingrays can be found lurking in the sand.
KAPALAI
The third point of the golden triangle, Kapalai Island isn't exactly an island but a shallow sandbank atop the Ligitan Reef. Above water, Kapalai is best known for the resort built on stilts that appears to magically exist far out in the open sea. Under the surface, Kapalai diving is a mix of two worlds: a muck diver's paradise in gentle waters comparable to that of Mabul, but with the higher visibility and some of the large pelagics typical of Sipadan.
Learn to dive!
The following are Uncle Chang dive rates and equipment rates. If you want to dive Sipadan it's important that you tell us ahead of time so we can book permits for you, because as a protected area only 176 dives are allowed there daily. Not a diver? Would you like to learn to dive? Well, here with us is an excellent environment to do just that!
DIVING COURSES
We provide PADI courses ranging from Discover Scuba for newbies, all the way to Divemaster for an opportunity to turn your passion into a career. Ask us about the fees and other burning questions you may have.
Discover Scuba is a one-day introduction to scuba diving, available to everyone from aged 10 years and up. It's a fantastic way to give scuba diving a try and learn to get comfortable in the water before you decide to go for recognised diving qualifications from PADI.
PADI Open Water Diver Course teaches the fundamentals of scuba diving and all the skills you need to begin your underwater journey. Once you complete this 3-day course, you earn the independence to dive with at least one equally qualified buddy without professional supervision.
PADI Adventures in Diving Programme offers two certifications, Adventure Diver and Advanced Open Water Diver, altogether in exciting 3 days. Here is where you get to choose from a number of specialty areas, such as Wreck Diving and Night Diving, in addition to mandatory Navigation and Deep Diving. The eco package consisting of Underwater Naturalist, AWARE Fish ID and Peak Performance Buoyancy is a worthwhile set of electives to take as they will expand your awareness of marine life, greatly enhancing every dive experience.
PADI Rescue Diver Course is a fun, rewarding 3-day course that will quickly build your confidence, knowledge and experience level. You will learn to look beyond yourself and purely recreational diving to consider the safety and wellbeing of other divers. This course, which coaches you in problem prevention, emergency procedures and more, is a vital step towards all PADI leadership training (Divemaster, Assistant Instructor and Open Water cuba Instructor).
PADI Divemaster Course is the start of your PADI professional career, deepening your knowledge of all facets of diving from equipment maintenance to day to-day running of dive operations. You will train to supervise dive activities and assist instructors with students. You need to complete at least 60 dives so taking a divemaster course is a serious commitment, which is in many ways a lifestyle course. You can contact us to discuss your options and ask for more details about becoming a PADI divemaster.
*Include gear(for divers), meals, boat transfer.
Mabul/Kapalai Island
Sightseeing (Mabul Only)
Snorkeling trip /(Mabul+Kapalai)2 dives Mabul+1 dive Kapalai
1 dive Mabul+1 dive Kapalai
Discovery Diving (Mabul Only)
Check/Referesh Dive
Night dive
Open Water
Advance course
*Please be noted that Mataking is a private island, thus, the land are restricted to their in house guests only. We are only allowed to snorkel and dive at reef only.
Mabul Island is 30 minutes away via boat from Semporna, a small town on the east coast of Sabah, Malaysian Borneo. To help you plan your trip, here's a breakdown of possible routes on your way towards Semporna.
We can take you to and from the Tawau airport, an hour's drive away from Semporna, if you ask. From Semporna you can then ride the boat to Mabul, and then back to town at the end of your adventure with us.
Kuala Lumpur, Kota Kinabalu, Hong Kong, Guangzhou, Manila, Taipei, Seoul, Tokyo
To Kota Kinabalu
Land: Tawau Airport – Semporna, vice versa
Sea: Semporna jetty – Mabul Island – Semporna Jetty (return trip)