Saving Oceans Through Beauty
Miss Scuba International is an international pageant dedicated to the Conservation of the Oceans through Beauty with training location at Mabul Water Bungalows at grand final at Sutera Harbor Resort, in Kota Kinabalu.
Who is the Miss Scuba 2019 Winner?
Michaela Shuttleworth from Australia is the winner of Miss Scuba International 2019.
1st Runner up: Anavaliza Admatja, Indonesia.
2nd Runner up: Flordeliz Mabao, Philippines.
Miss Congeniality and Miss Marine Conservation: Lisa Van Roozendaal, Benelux.
Best in Talent: Rouella Chan, Hong Kong.
Best in National Costume: Flordeliz Mabao, Philippines.
Who can qualify to be a Miss Scuba?
Age between 18 and 28 years old.
At least 162cm in height
English speaker
Passionate about the diving, the ocean and Conservation.
Are single and never married
Not pregnant or given birth
Good moral character
Click on the image below for the official rules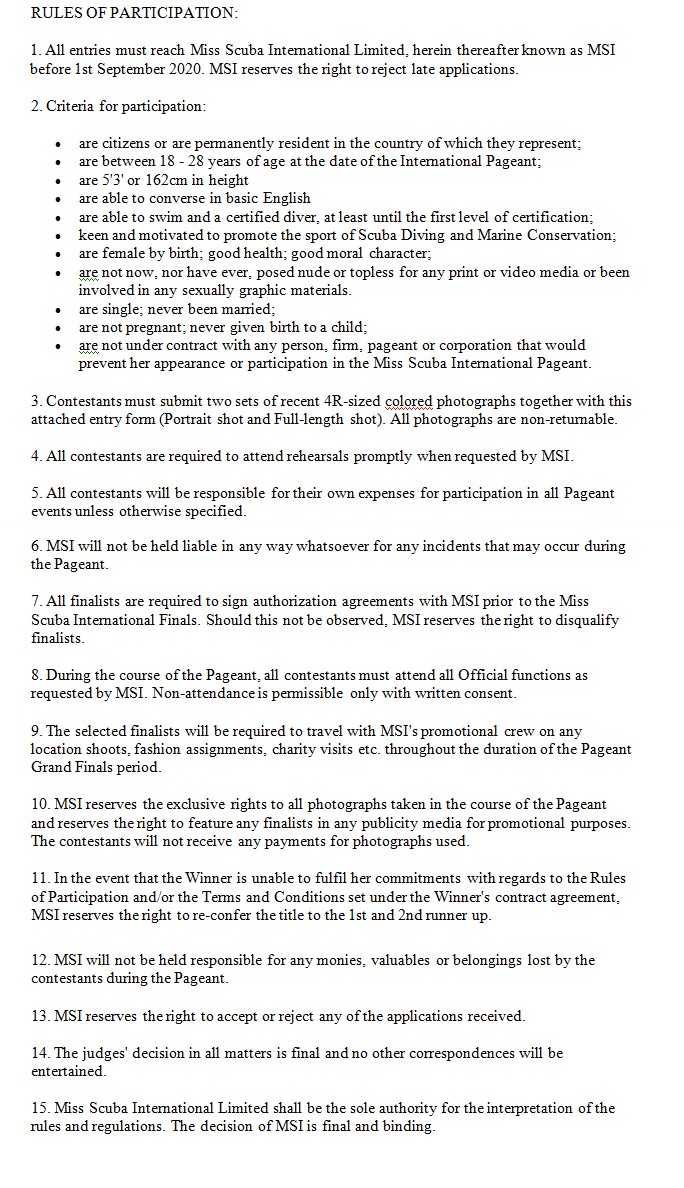 Who are the Miss Scuba 2019 Contestants?
Michaela Shuttleworth
AUSTRALIA
Age: 22
Height: 175cm
Occupation: Student (Marine Science)
Scuba Certification: Open Water
Danique Van Holstein
BELGIUM
Age: 19
Height: 172cm
Occupation: Student
Scuba Certification: Open Water
Lisa Van Roozendaal
BENELUX
Age: 27
Height: 178cm
Occupation: Diving Instructor
Scuba Certification: Open Water Instructor
Flora Senanszky
HUNGARY
Age: 24
Height: 180cm
Occupation: Student (Economics and International Management)
Scuba Certification: Open Water
Anavaliza Atmadja
INDONESIA
Age: 28
Height: 168cm
Occupation: Brand Manager
Scuba Certification: Rescue Diver
Samanta Venere
LATVIA
Age: 22
Height: 165cm
Occupation: Office Manager
Scuba Certification: Open Water
Shradha Silwal
NEPAL
Age: 24
Height: 168cm
Occupation: Software Engineer
Scuba Certification: Open Water
Rebecca Rustell
NETHERLANDS
Age: 18
Height: 169cm
Occupation: Student (Hotel Management)
Scuba Certification: Rescue Diver
Zaley Omega Tamihana-Brown
NEW ZEALAND
Age: 23
Height: 165cm
Occupation: Enrolled Nurse
Scuba Certification: Open Water
Vene Margery van Rooyen
SOUTH AFRICA
Age: 19
Height: 174cm
Occupation: Student (Somatology)
Scuba Certification: Open Water
Sara Jasmine Mamadama Sjoberg Sidibe
SWEDEN
Age: 28
Height: 179cm
Occupation: Air hostess
Scuba Certification: Open Water
HUANG Yu-En (Iris)
TAIWAN
Age: 26
Height: 172cm
Occupation: Self-employed (tea business)
Scuba Certification: Open Water
Ashley Powell
UNITED KINGDOM
Age: 25
Height: 173cm
Occupation: IT Analyst
Scuba Certification: Specialty Diver
Rachel Cushman
USA
Age: 28
Height: 172
Occupation: Dive Safety Officer
Scuba Certification: Instructor (First Aid & Nitrox)
What is the History of Miss Scuba International?
Miss Scuba International beauty pageant was first held in 2011 in Sipadan Mabul Resort, Mabul island, Sabah, Borneo, Malaysia. Beauty pageants take place all over the world, many of them for a good cause, but no others are specifically held to bring awareness to the oceans.
Since life first began in the ocean, it is only fitting that we celebrated its magnificence. What better way to do that than to honor the courage and inner beauty of our modern women while championing marine conservation?
The pageant was the brainchild of Robert Lo, the owner of the Mabul Water Bungalows and Sipadan Mabul Resort. Mr Lo is an advocate of sustainable development, with a particular passion for the marine environment. It is his hope that the pageant's beauty queens will attract divers and non-divers who will learn how fragile the wonders beneath the ocean really are. He believes that once people become aware of this, they will take an interest in protecting them.
The pageant also promotes safe diving activities offered through professional organizations all over the world. It aims to increase international tourism while creating an appreciation for the local culture. Visitors who travel to international dive destinations can't help but have new cultural experiences. The pageant may very well help people appreciate how interesting the world is.
This event is the first of its kind. It is a pageant with a goal – to gain support for the preservation of the oceans and Earth for the generations that follow.
This unique competition looks for a woman who is beautiful while having inner loveliness and who will also be a positive representative of ocean ecological preservation, protection and conservation
How to participate in Miss Scuba International?
Must I have a dive certification to enter the competition?
Yes. You need a minimum Open Water certification or its equivalent.
Where and when will the MSI 2019 finals be held?
The pageant takes place at Mabul Water Bungalows, Kokol Haven Resort and Magellan Sutera Harbour Resort. It is located in Kota Kinabalu, Sabah in Malaysian Borneo. This year it will be held on November 16 2019.
What criteria is used to judge the MSI contestants?
There are six sections to the competition: Appearance, Personality, Talent, Catwalk, knowledge of Scuba Dive Tourism as well as Marine Conservation and finally a question and answer test.
Mabul Water Bungalows Resort
Mabul Water Bungalows is the luxury dive resort operated near its sister beach resort of Sipadan Mabul Resort (SMART). The resort is situated a quick 15-minute boat ride from Sipadan. The luxury bungalows and villas are built on stilts over the water so they appear to be floating. There are 19 wooden like over the water bungalows and 9 swanky over the water villa suites, all offering total comfort.
Every water bungalow is furnished with exquisite, contemporary decor. They are well-appointed with an ensuite bathroom, hot water and a large, private balcony that offers panoramic sea views. Air conditioning and ceiling fans can be controlled remotely, as can the satellite television. A convenient minibar and safety box are added features in each bungalow.
The resort has a large, open-air restaurant, a relaxing lounge area, free internet at the business center and its own souvenir shop. Visitors can book a tour at the dive center located at the resort or watch a video of an underwater dive.
Click here to Make Booking at Mabul Water Bungalows

Kokol Haven Resort
Kokol Haven is a resort situated near KK at Menggatal. It's about an hour and a half from the bustling city of Kota Kinabalu. The resort offers an impressive view of Kota Kinabalu's city center where visitors enjoy sight-seeing. To the north, the views extend far beyond the group of five islands located in the Tunku Abdul Rahman Marine Park. To the south, the beautiful and imposing Mt. Kinabalu can be seen.
Kokol Haven's restaurant, Horizon, is renowed for its scrumptious dishes such as Tuaran Mee and oxtail curry as well as its interesting fried ice cream dessert. The delicious food and spectacular views make the resort a much-loved restaurant to enjoy a meal with friends or family.
Nature enthusiasts who love an adventure will enjoy exploring the botanical reserve with its amazing, native plants. Kokol Haven has a resident naturalist who takes visitors on interpretive walks full of interesting titbits not found elsewhere.
The resort is also an event facility, catering to parties, weddings, religious celebrations and corporate functions.
Sutera Harbour Resort
Sutera Harbour Resort lies on the banks of South China Sea at Sabah and faces the five tropical islands of Tunku Abdul Rahman Park. It is nestled into the enfolds of Mount Kinabalu. The five-star resort has 456 rooms and features the Mandara Spa which is internationally renowned.
The resort is one of three hotels located on the Sutera Habour complex. The equally luxurious Magellan Sutera Resort and The Pacific Sutera Hotel located at the complex also deliver a stylish, business setting for their combined 956 rooms and luxurious suites.
The grand, 384-acre grounds of the resort provide visitors with a 27 hole, first-rate golf course designed by Graham Marsh. There are also a variety of recreational amenities as well as a 104-berth marina.
Which are the 2019 Miss Scuba Participating Countries?
Miss Scuba Australia 2019
Miss Scuba Belize 2019
Miss Scuba China 2019
Miss Scuba France 2019
Miss Scuba Germany 2019
Miss Scuba Hong Kong 2019
Miss Scuba Indonesia 2019
Miss Scuba Iran 2019
Miss Scuba Japan 2019
Miss Scuba Latvia 2019
Miss Scuba Macau 2019
Miss Scuba Malaysia 2019
Miss Scuba Mexico 2019
Miss Scuba Netherlands 2019
Miss Scuba New Zealand 2019
Miss Scuba Philippines 2019
Miss Scuba Poland 2019
Miss Scuba South Africa 2019
Miss Scuba Taiwan 2019
Miss Scuba Thailand 2019
Miss Scuba United Kingdom 2019
Miss Scuba USA 2019
About Miss Scuba UK
Miss Scuba UK is an annual Beauty pageant, which this year. The competition will take place over 7 days in November. The competition will consist of 3 days dive training for the 8 Miss Scuba finalists, followed by a beauty pageant on day 7. Throughout the week, we will run various activities involving the pageant contestants, including beach cleanups and talks from industry professionals. The winning UK contestant will gain a place in the Miss Scuba International pageant, which is to be held at KotaKinabalu, Sabah , Malaysia (BorneoIsland) . In addition to this, all 10 UK finalist will gain a PADI open water Scuba Diving certificate.
Mission and Aim
The mission of Miss Scuba UK is to promote safe diving practices through worldwide professional training organisations, and elevate international tourism and cultural appreciation.
Miss Scuba UK has the following aims:
• Protect the Planets Oceans
• Stimulate worldwide dive tourism
• Promote diving education and careers
• Foster marine conservation
• Promote a healthy lifestyle
• Celebrate women's beauty and courage
• Inspire future generations
Click here to Book your Reservation (Special Online Discount)
Note: Combine the Miss Scuba International with a trip to Sipadan, Mabul and Kapalai. Please contact us for more information on how to get there.