Lankayan Dive Resort is a luxury private island resort located near Sandakan (90 minutes by boat).
Click here to Book your Reservation (Special Online Discount)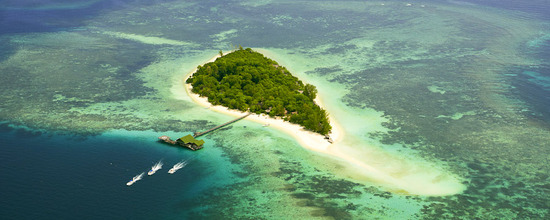 Popular for honeymoons and weddings, Lankayan Island's luxury beach and water chalets each offer ocean view.
Located in the Sulu Sea is the ultimate in secluded destinations – a stunning and remote island ideal for those looking for an opportunity to try a 'Robinson Crusoe' experience. Suitable for divers and non-divers alike, visitors to Lankayan Island visitors will not be disappointed by this great hideaway spot.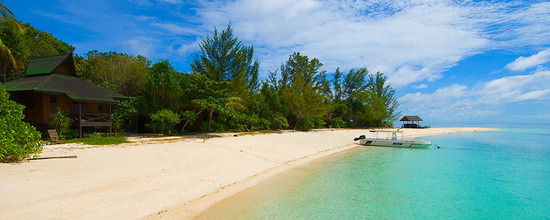 Beach and Water Chalets
The Resort offers 16 luxury beach front chalets along with 9 over-the-water luxury chalets.
There are a total of 16 chalets with direct beach access, balconies with a view and private bathrooms. These beautiful chalets have the home comforts you need such as coffee and tea facilities, hot water, mini fridges and fresh water.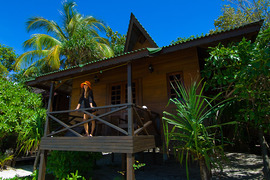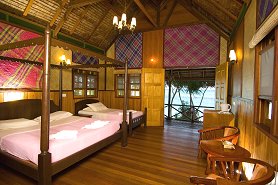 Twin/double/triple Sharing chalets
A/C and Ceiling Fan
Private Balcony
Ensuite bathroom with bathtub and shower
Coffee and tea making facilities
Scuba Diving & Snorkeling at Lankayan
Scuba Diving at Lankayan island is world class with pristine coral reefs. Lankayan is also a sea turtle nesting site.
Choose from 4 dive wrecks teeming with fish and coral life
Sensational snorkelling above coral reefs combined with white sandy beaches
Some of the best underwater experiences in all of Borneo can be experienced at Lankayan Island
Located along what is known as 'Sea Turtle Corridor', the island boasts a healthy turtle population with nesting and foraging areas for Hawksbills and Green Turtles
A hidden gem unlikely to disappoint
Fine Dining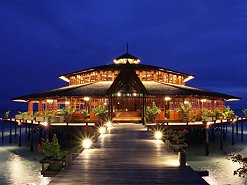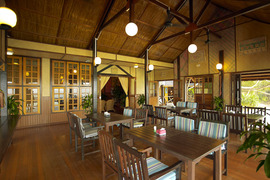 Enjoy breakfast, lunch and dinner at the restaurant with panoramic sea views.
Activities at Lankayan Island
The main attractions at Lankayan Island involve the beautiful clear waters and abundance of marine life to be seen whilst kayaking, snorkelling or scuba diving.
There are also a number of superb island and beach walks to be experienced.
Luckily for turtle enthusiasts, from June till September, visitors can also witness the hatchlings of baby sea turtles (Green and Hawksbill).
Lankayan diving package includes
Land transfer from Sandakan airport to Sandakan Jetty (return)
Boat transfer to Lankayan Resort (return)
Chalet Accommodation on twin or triple share basis at the resort
The ensuite bathrooms feature both hot shower and bathtub.
Unlimited dives in front of the Lankayan Dive Centre
No extra charge for night dives in front of dive centre
Tanks, Weight and belt provided
Delicious Breakfast, Lunch and Dinner (buffet style)
Afternoon snacks
Tea/Coffee/Water & cordials served throughout the day
Note: Scuba diving at Lankayan can be easily combined with Sipadan, Mabul, Kapalai, Mataking and Layang Layang islands. Please contact us for more information.
Lankayan non-diving (snorkeling) package includes
Land transfer from Sandakan airport to Sandakan Jetty (return)
Boat transfer to Lankayan Resort (return)
Chalet Accommodation on twin or triple share basis at the resort
Delicious Breakfast, Lunch and Dinner (buffet style)
Afternoon snacks
Tea/Coffee/Water & cordials served throughout the day
Snorkeling gears available for rental
Book your reservation (Special Online Discount)
Customer Reviews & Ratings
"Our holiday at Lankayan Island was exceptional from start to finish. Lankayan Island is every bit as beautiful as its reputation. The staff were intent on meeting our every need and we felt safe with them the whole time. We were able to see all the turtle activity we had hoped to while we were staying at Lankayan Island Dive Resort. We saw them nesting, hatching and the release. We opted for the non-dive package and instead snorkelled around the resort. On our first day, we swam alongside the turtles near the island. On our second day, we paid 50 MR each to take the morning snorkelling trip. We enjoyed it so much that we did the afternoon one too. It was wonderful to snorkel around looking at the coral as well as the plentiful marine life." Emma Sanders, London
"My wife and I stayed in a water villa which was very nice. The bathroom was large with slats in the floor and open windows that let a lovely breeze flow through our chalet when the porch door was opened. Our bed was very comfortable also. I had asked the staff to decorate our room with flowers as a special surprise for my wife and they did a terrific job before we arrived. We loved our holiday there which we felt was unlike any other place we have ever stayed at. The staff were intent on meeting our every need and we felt safe with them the whole time. The water around the island is crystal clear and the coral is beautiful. There are lots of sea turtles to watch which we found fascinating. There is a five-minute boat ride that takes snorkelers a short distance offshore. We were surprised at how much more we saw from there and I cannot recommend it highly enough." Oliver Burnell, Sydney, Australia
"My wife and I stayed on Lankayan Island and had an amazing time. We had been to the Maldives years earlier and were always searching for something that would compare. We found finally found it here. The white sand beach is fantastic and I wish we could have had more time to enjoy it. We were right to opt for the beach chalet instead of a water one because the room was way better than the website photos. It had a beautiful outdoor shower with lovely views of the pristine, clear water. Our trip to Sabah, Borneo was great and our stay at Lankayan resort was the highlight of it." Li Wei Wei, Guangzhou, China
"Lankayan Island Dive Resort is incredible. we were greeted at the jetty on the island by a friendly and very professional staff. We were shown around the resort and told all sorts of useful things about the facilities, the island and the wildlife there. We then checked in to our beach cabin which was just beautiful and we immediately felt relaxed. Everything about the resort was wonderful, including the superb food and the cleanliness of the facilities. We went snorkelling on the beautiful reef outside our cabin and we were mesmerized by the colorful hard and soft coral as we swam alongside the turtles. We had come hoping to see the sea turtles hatching and we were lucky enough to not only swim with them but to also watch the females laying their eggs on the beach and the babies hatching. It was an experience I won't ever forget. " Janet Wong, Singapore
"The marine life on the reef at Lankayan resort was amazing. The best part of our stay here was watching an enormous green turtle walk out of the water and nest on the beach in front of us. We also enjoyed the meals which included lots of lovely seafood." Mike Anderson, Canada
"The resort is well-maintained and we got excellent service from all members of the staff. The food was delicious. There were stingrays and turtles swimming around which was nice, apart from that, the diving was mostly macro critters." Thomas Baker, London, United Kingdom
"This private island resort is so beautiful and both the dive staff and the resort staff were really friendly doing their best to give us a good time. They drew our attention to every interesting thing from green turtle laying eggs to hatching turtle eggs. One visitor even swam next to tiny baby sharks whilst snorkelling. We will remember the place for a long time." Christopher Lee, Hong Kong
"Lankayan island was a paradise and leaving it was painful. The divemaster helped us see all types of marine life and made every dive a pleasure. The resort staff was highly professional and took good care of all our needs." Raphael Mitch, New York, United States
"Lankayan is not cheap but we get so much for what we pay that we cannot complain. Everything was done for us – we didn't have to carry our luggage or take care of our diving gears. The resort is peaceful with all the modern facilities. We loved it." Corinne Poussin, Paris, France
"The dive equipment was in very good conditions and the DM was very experienced and professional. Our stay was excellent." Matthijs Van Der Meiren, Antwerp, Belgium
"We stayed at Lankayan for a week and did the diving course. Our dive instructor was very friendly and patient. We were looked after well by the resort staff. They were very efficient and made sure that we had vegetarian meals." Joaquim Cordeiro, San Paulo, Brazil
"The island was private and peaceful and the diving was excellent thanks to the DMs knowledge about the marine life, especially the rare macro." Michele Biello, Roma, Italy
"My stay at the resort was also great despite the fact that I was a solo traveller. I choosed the single occupancy chalet which was spacious and beautifuly designed in front of the beach. The resort staff took care of all my needs." Li Zhiqiang, Beijing, China
"Lankayan was a real delight! The dive staff was really helpful and friendly. They put together our scuba diving kit before every dive, and rinse it and dry it after the dives. Highly recommended for both snorkelers and divers." Gregg Aston, Cairns, Australia
Send an Enquiry
(Special Online Discount)