Billabong Scuba is a budget hotel longhouse located on Mabul island.
Billabong Scuba offers simple en-suite rooms and daily diving trips toMabul and Sipadan.
Click here to Make a Booking.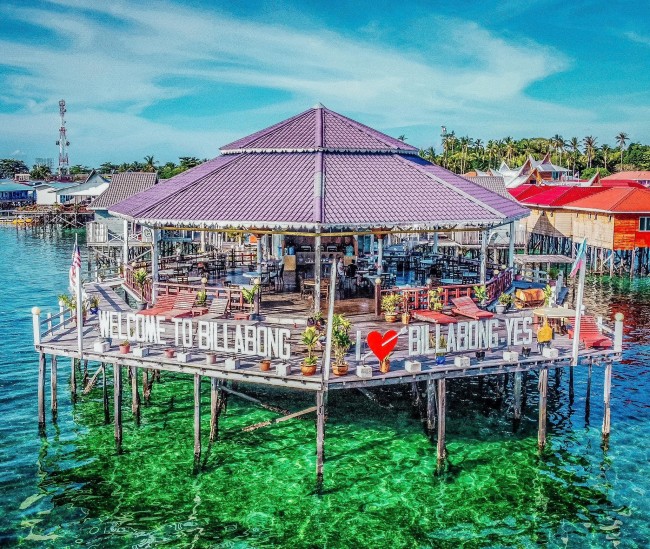 Billabong Scuba is a cozy homestay offering a different experience for low budget travelers, who are looking for cheap diving in Sipadan - both fun dives and PADI Dive Courses, and a more laid-back way to live and dive the islands Sipadan and Mabul/Kapalai.
Since Billabong Scuba budget accommodation and dive shop is located on the island of Mabul, all dive sites are easy accessible, giving us a very flexible dive schedule to suit your needs. Diving from Mabul, unlike day-tripping from the mainland, lets us dive the sites when they are at their best, like dawn dives to look for Hammerhead Sharks, catching the tides when marine life is most active and dusk and night dives for a spectacular experience with mating Mandarinfish and other nocturnal species.
Sipadan Island is just a short 20 minute boat ride away, and the extremely diverse macro sites around Mabul and Kapalai is all reached with Billabong Scuba boat in less than 10 minutes.This gives you the choice of combining diving activities and "hammock-time" in a relaxed friendly environment.
Mabul Homestay is a traditional Malay "tiang". A wooden-house, build on stilts in the water, giving you a scenic and relaxed environment to enjoy your holiday in. Just out the backdoor of the tiang, you'll find the atmospheric local village with all its picturesque houses and friendly villagers. It is the perfect opportunity to experience the wonders of real Malay island living.
DIVING
pLet Billabong Scuba experienced divemasters show you Mabul and Sipadan underwater world.
PULAU SIPADAN
Sipadan is the only oceanic island in Malaysia, rising 2,000 feet or 600m from the seabed. It is located east of Tawau (Borneo), in the Celebes sea. It was formed by living corals growing on top of an extinct volcanic cone that took thousands of years to develop.
Sipadan is located at the heart of the Indo-Pacific basin, the centre of one of the richest marine habitats in the world. More than 3,000 species of fish and hundreds of coral species have been classified in this ecosystem. Rare diving scenes such as schools of greenback turtles and hawksbill turtles nesting and mating, schools of Barracuda & Big-eye trevally in tornado-like formations, pelagic species such as manta rays, eagle rays, scalloped hammerhead sharks and whale sharks can be seen here.
The mysterious turtle tomb lies underneath the column of the island, formed by an underwater limestone cave with a labyrinth of tunnels and chambers that contain many skeletons of turtles. The skeletons of a dolphin and a marlin has also, by mysterious ways, found the entrance to this gloomy and spectacular graveyard.
Pulau Sipadan Island was at the top of CNN's Top 100 List for 'The Top Dive Destination in the World'. In fact the island shared its top spot with two other destinations known for the amazing diversity of their marine life - the Galapagos Islands and Truk in Micronesia. The list of attractions is quite staggering and all the more exceptional as it involves big fish encounters, something very rare in Asia these days - at Barracuda Point you can find yourself surrounded by a spiralling vortex of barracuda, so large that the sunlight is often clouded out. At South Point there are scores of reef sharks, large schools of passing trevally and herds of massive marauding bumphead parrotfish. When diving in Sipadan everywhere you turn you'll see turtles, munching on the sponges and algae, or lazing on the wall ledges. If you take the time to look closely at the walls you'll see a wealth of macro life and fish species to rival most destinations, although this is often overlooked due to the other major attractions crying for your attention!
Signature sites: Barracuda Point, South Point, Drop Off
PULAU MABUL
Mabul is arguably one of the richest single destinations for exotic small marine life anywhere in the world. Flamboyant cuttlefish, blue-ringed octopus, mimic octopus and bobtail squids are just a few of the numerous types of cephalopods to be found on Mabul's reef. The sight of harlequin shrimp feeding on sea stars and boxer crabs waving their tin anemone pompoms are just a small example of the endless species of crustaceans. Many types of gobies can be found including the spike-fin goby, black sail-fin goby and metallic shrimp goby. Frogfish are everywhere -giant, painted and clown frogfish are regularly seen along with the almost the whole scorpionfish family. It would be quicker to list the species not found at Mabul - crazy critters are in abundance at this magical macro site!
Signature sites: Paradise 1+2, Seaventures
Kapalai is a smaller sandbank, housing a posh resort just 10minutes off Mabul island. Diving on this small sandbank, and its surrounding reef, will treat you with an enormous range of rare macro life. The sandbank that makes out this little island, slopes down to around 20 meters, where 5 wooden Malay fishing boats have found rest on the bottom. The wrecks are assessable for all levels, and are housing several big schools of fish, amongst are snappers, sweetlips and bluefin trevallys. On the wrecks, you'll find frogfish the size of footballs hanging out side by side with the beautiful twinspot lionfish and the odd crocodile flathead. Returning to the reef for the safety-stop, a stretch of sand will be passed which calls for a look-out for the extremely photogenic and rare blue-ringed octopus. The reef itself houses numerous rare critters that will be cherished by the macro loving diver, such as ghostpipefish, pharaoh cuttlefish and a wide range of nudibranch ready to pose for passing divers and their cameras.
Signature sites: Kapalai housereef
LIVING ON MABUL ISLAND
The homestay in Mabul is a scenic traditional wooden Malay tiang, built on stilts rising out of the water, providing a view of nothing but the ocean and the sister island Sipadan on the horizon. Every evening, you'll have the dinner served just after the sun has settled down in the unrestricted panorama view.
Billabong Scuba concept is to give people a different experience of Mabul Island, providing a cozy, relaxed atmosphere with a home-like environment. The homestay is daily managed by a friendly English-speaking Malay family with years of experience in western tourism. Every day they spend hours in the kitchen, cooking great traditional Malay meals and snacks, which never seem to fail the expectations from the food-loving guest! In the house, there are several rooms with comfortable double beds, a fan to keep you cool at night and big windows allowing a breeze from the ocean to keep everything nice and chilled. There are shared toilets, where you can shower with a traditional "mandy" (a bucket of fresh water) or you can use the outside shower - whilst enjoying the view of the ocean!
If you're not out diving or snorkeling, the homestay is the perfect place to just hang out and suck in the feeling of real Malaysian island living. Just out the back, you'll find the enchanting local village, full of life, flowers and extremely friendly villagers. Strolling around this village, you?ll discover a place in deep harmony with a beautiful setting, where people are helpful and eager to introduce you to their community.
We provide the diving guests with all newly serviced equipment. Torches and underwater cameras can be rented on request. The guides and instructors have years of experience in diving Sipadan/Mabul and the local marinelife, making sure that you will be taken care of with great safety and not miss out on any of the good stuff. All teaching and guiding is strictly conducted following PADI standards.
GETTING HERE
All roads leads to Mabul! Billabong Scuba has a booking office located on the mainland in Semporna, Sabah. The pier, where we will pick you up with the boat and take you out to Mabul Island (around 45 minutes).
FROM OUTSIDE SABAH
From Kuala Lumpur: there are three scheduled daily flights with Air Asia flying to Tawau at 7.20, 15.25 and 17.50. Air Asia is limited to 15kg of luggage, with own dive-equipment you might have to pay overweight (RM12 per kilo). So stuff as much in your hand luggage as possible!. Check out www.airasia.com for online bookings.
Another option from Kuala Lumpur: is to travel with Malaysia Airlines, flying from Kuala Lumpur to Kota Kinabalu. They too have scheduled flights going out every day, and they allow you to bring 20kg of luggage. Check out www.malaysiaairlines.com for bookings.
From Singapore: you can fly from Johor Bahru airport to Tawau or Kota Kinabalu. Johor Bahru is just over the boarder into Malaysia, you can easily catch a bus or a taxi going there. Air Asia and Malaysia Airlines both has daily scheduled flights on this route.
FROM INSIDE SABAH
From Kota Kinabalu: you have two options. You can either take a bus directly to Semporna leaving daily at 7.30 am and pm (this takes 8 hours) or you can book a cheap flight with Air Asia or Malaysia Airlines down to Tawau (which only takes 45minutes).
From Tawau airport or Tawau town: You can either jump in a taxi and go directly to Semporna, this will take you around one hour and cost you around 95RM, or you can take the minibus into Tawau (10RM around half an hour ride) and from Tawau take one of the many minibuses going directly to Semporna (10RM and a little over an hour).
From Sandakan: The buses that leave from Kota Kinabalu will swing by Sandakan daily and can all drop you in Semporna bus-station.
Click here to Make a Booking.