The Lower Kinabatangan River and Sukau areas are known for its rich ecosystem, mangrove swamps and flood plains, and is home to its most famous inhabitants, the proboscis monkeys.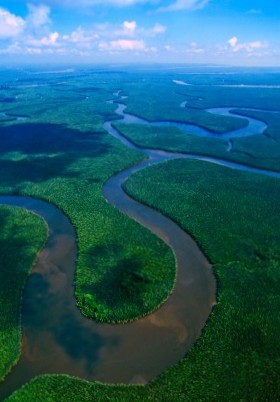 Sungai Kinabatangan is the longest river in Sabah which was declared as Sabah's gift to the Earth in 1999. It measures about 560 kilometers from the southwest to the Sulu Sea. The upper part of the river itself has really been destroyed by clearing plantations and logging. It is pretty ironic that the riverine forest is surrounded by palm trees and palm oil plantations. The palm trees are now home to wildlife particular to that area. This only proves that life indeed finds a way. And this helps improve the environmental condition and status of Kinabatangan. This also proves that you could enjoy forward development with respect and care for life.
Every nature enthusiast's trip to Sabah is highlighted by the wildlife of Kinabatangan. Mammals are very common in the area. You could see birds in activity from October to Math (rainy season). It was a little inconvenient to do this but you will be able to get the pictures and videos that you want. Just recently, floods that occurred annually and became worse as March approached. Because of this, the villages had to be moved. The operations of camps and lodges were halted until the waters ceased. But during the dry season, the lakes dry up completely.
From the Sandakan-Lahad Datu to the estuary surrounded by a mangrove a strip of rainforest lined the path. Here, proboscis monkeys were spotted in the mangrove forests every late afternoon. Orangutans were spotted often, settling in the surrounding trees. Macaques (pig-tailed and long-tailed) were found at any place possible.
Marbled cats could be seen in the forest if you're lucky. Flat-headed cats are seen at night on a regular basis in Menungal (Kinabatangan's tributary). Other animals that can be seen in the area are elephants, squirrels, and deer.
Bird watching is a very rewarding thing in Kinabatangan. All eight species of hornbill endemic to Borneo are spotted regularly here. Beautiful pittas are very commonly seen. You could also see the snake bird or the Oriental darter and the Storm's stork as well.
Animal-spotting in Kinabatangan really depends on the knowledge of your guide and sheer luck.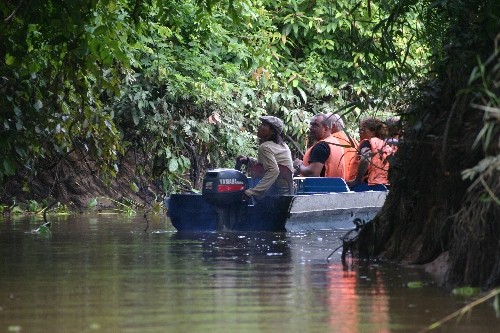 What is a typical Day trip on the Kinabatangan River?
Take one of the 3 times daily boat trips up or down the river to watch the various treasured local wildlife species. These include pygmy elephants, probocis monkeys (characterized by its pendulous nose, thick white tail, fat belly, and webbed feet), wild orangutans, red leaf monkeys, silver leaf monkeys, hornbills, civet cats, etc.
A great number of bird species are quite prolific in the area. These include kingfishers, bee-eaters, egrets, hornbills, oriental darters and a lot more (see below watchlist):
Short bird watching list
Anhingas
Asian Barbets
Bee-eaters
Bristlehead
Broadbills
Bulbuls
Caracaras and Falcons
Cisticolas
Crested Shrikejay
Crows, Magpies and Jays
Cuckoos
Cuckooshrikes
Doves and Pigeons
Drongos
Ducks
Fairy Flycatchers
Fairy-bluebirds
Fantails
Flowerpeckers
Frogmouths
Ground Babblers and Fulvetta
Gulls, Skimmers and Terns
Hawks, Kites and Eagles
Herons, Bitterns and Egrets
Hispanhiolan Tanagers
Hornbills
Ioras
Kingfisher
Laughingthrushes
Leafbirds
Monarch Flycatchers
Nightjars
Nuthatches
Flycatchers
Sparrows
Orioles
Ospreys
Owls
Parrots
Pheasants and Grouses
Pittas
Rail-babbler
Rails, Gallinules and Coots
Rollers
Sandpipers
Scimitar-Babblers and Tree-Babblers
Starlings
Storks
Sunbirds and Spiderhunters
Swallows
Swifts
Thornbills
Treeswifts
Trogons
Vangas
Vireos, Erpornis and Shrike-Babblers
Waxbills
Woodpeckers
Woodswallows
Detailed birdwatching list
Abbott's Babbler
Ashy Minivet
Ashy Tailorbird
Asian Emerald Dove
Asian Fairy-bluebird
Asian Glossy Starling
Asian Palm-Swift
Banded Broadbill
Banded Woodpecker
Barn Swallow
Barred Eagle-Owl
Bar-winged Flycatcher-shrike
Bat Hawk
Black Bittern
Black Eagle
Black Hornbill
Black-and-red Broadbill
Black-and-white Bulbul
Black-and-yellow Broadbill
Black-capped Babbler
Black-capped Kingfisher
Black-crowned Pitta
Black-faced Kingfisher
Black-headed Bulbul
Black-hooded Oriole
Black-naped Monarch
Black-naped Oriole
Black-nest Swiftlet
Black-throated Babbler
Black-winged Flycatcher-shrike
Blue-and-white Flycatcher
Blue-banded Kingfisher
Blue-crowned Hanging-Parrot
Blue-eared Barbet
Blue-eared Kingfisher
Blue-headed Pitta
Blue-tailed Bee-eater
Blue-throated Bee-eater
Blyth's Paradise-Flycatcher
Bold-striped Tit-Babbler
Bornean Banded-Pitta
Bornean Blue Flycatcher
Bornean Bristlehead
Bornean Crested Fireback
Bornean Ground-Cuckoo
Bornean Partridge
Bornean Wren-Babbler
Brahminy Kite
Bronzed Drongo
Brown Barbet
Brown Boobook
Brown Fulvetta
Brown Wood-Owl
Meiglyptes tristis (Buff-rumped Woodpecker) Endangered
Buffy Fish-Owl
Bushy-crested Hornbill
Cattle Egret
Cave Swiftlet
Changeable Hawk-Eagle
Charlotte's Bulbul
Chestnut Munia
Chestnut-bellied Malkoha
Chestnut-breasted Malkoha
Chestnut-rumped Babbler
Chestnut-winged Babbler
Chinese Egret
Cinnamon Bittern
Cinnamon-headed Pigeon
Cinnamon-rumped Trogon
Collared Kingfisher
Common Flameback
Common Hill Myna
Common Iora
Common Kingfisher
Common Sandpiper
Cream-vented Bulbul
Crested Goshawk
Crested Partridge
Crested Serpent-Eagle
Crested Shrikejay
Crimson Sunbird
Crimson-breasted Flowerpecker
Crimson-winged Woodpecker
Crow-billed Drongo
Dark-necked Tailorbird
Dark-throated Oriole
Diard's Trogon
Dollarbird
Dusky Munia
Eurasian Moorhen
Eurasian Tree Sparrow
Ferruginous Babbler
Fiery Minivet
Fluffy-backed Tit-Babbler
Giant Pitta
Golden-bellied Gerygone
Golden-naped Barbet
Gould's Frogmouth
Gray Imperial-Pigeon
Gray-and-buff Woodpecker
Gray-breasted Babbler
Gray-capped Woodpecker
Gray-cheeked Bulbul
Gray-faced Buzzard
Gray-headed Babbler
Gray-headed Canary-Flycatcher
Gray-headed Fish-Eagle
Great Argus
Great Crested Tern
Great Egret
Great Slaty Woodpecker
Great-billed Heron
Greater Coucal
Greater Green Leafbird
Greater Racket-tailed Drongo
Green Broadbill
Green Imperial-Pigeon
Green Iora
Helmeted Hornbill
Hodgson's Hawk-Cuckoo
Hooded Pitta
Horsfield's Babbler
House Swift
Indian Cuckoo
Intermediate Egret
Jambu Fruit-Dove
Javan Pond-Heron
Jerdon's Baza
Large Frogmouth
Large Green-Pigeon
Large-billed Crow
Lesser Adjutant
Lesser Coucal
Lesser Fish-Eagle
Lesser Green Leafbird
Lesser Whistling-Duck
Little Egret
Little Green-Pigeon
Little Spiderhunter
Long-billed Blue Flycatcher
Long-billed Spiderhunter
Long-tailed Parakeet
Malaysian Blue Flycatcher
Malaysian Nightjar
Malaysian Pied-Fantail
Malaysian Rail-babbler
Maroon Woodpecker
Maroon-breasted Philentoma
Mossy-nest Swiftlet
Moustached Hawk-Cuckoo
Olive-backed Woodpecker
Olive-winged Bulbul
Orange-backed Woodpecker
Orange-bellied Flowerpecker
Oriental Darter
Oriental Honey-buzzard
Oriental Magpie-Robin
Oriental Pied-Hornbill
Osprey
Pacific Swallow
Pink-necked Pigeon
Pin-tailed Parrotfinch
Plain Sunbird
Plain-throated Sunbird
Plaintive Cuckoo
Puff-backed Bulbul
Purple Heron
Purple-naped Spiderhunter
Raffles's Malkoha
Red-bearded Bee-eater
Red-billed Malkoha
Red-crowned Barbet
Reddish Scops-Owl
Red-eyed Bulbul
Red-naped Trogon
Red-throated Barbet
Red-throated Sunbird
Rhinoceros Hornbill
Ruby-cheeked Sunbird
Ruddy Kingfisher
Rufous Piculet
Rufous Woodpecker
Rufous-backed Dwarf-Kingfisher
Rufous-chested Flycatcher
Rufous-collared Kingfisher
Rufous-crowned Babbler
Rufous-fronted Babbler
Rufous-tailed Shama
Rufous-tailed Tailorbird
Rufous-winged Philentoma
Savanna Nightjar
Scaly-crowned Babbler
Scarlet-backed Flowerpecker
Scarlet-rumped Trogon
Short-tailed Babbler
Slender-billed Crow
Snowy-browed Flycatcher
Sooty-capped Babbler
Spectacled Bulbul
Spotted Dove
Spotted Fantail
Square-tailed Drongo-Cuckoo
Stork-billed Kingfisher
Ciconia stormi (Storm's Stork) Endangered
Straw-headed Bulbul
Streaked Bulbul
Striated Heron
Striped Wren-Babbler
Sunda Woodpecker
Tawny-breasted Parrotfinch
Temminck's Sunbird
Thick-billed Pigeon
Thick-billed Spiderhunter
Van Hasselt's Sunbird
Velvet-fronted Nuthatch
Wallace's Hawk-Eagle
Wandering Whistling-Duck
Waterfall Swift
Whiskered Treeswift
White-bellied Erpornis
White-bellied Sea-Eagle
White-bellied Woodpecker
White-breasted Waterhen
White-breasted Woodswallow
White-chested Babbler
White-crowned Forktail
White-crowned Hornbill
White-crowned Shama
White-fronted Falconet
White-nest Swiftlet
White-rumped Shama
White-tailed Flycatcher
Wreathed Hornbill
Wrinkled Hornbill
Yellow-bellied Bulbul
Yellow-bellied Prinia
Yellow-breasted Flowerpecker
Yellow-crowned Barbet
Yellow-rumped Flowerpecker
Yellow-vented Bulbul
Yellow-vented Flowerpecker
Zebra Dove
Please contact us for booking your Kinabatangan river wildlife and birdwatching cruise.