The Roach Reef Resort is located 25 mins by boat from Tawau.
The resort's dive center offers diving trips to Sipadan island.
Click here to Make a Booking.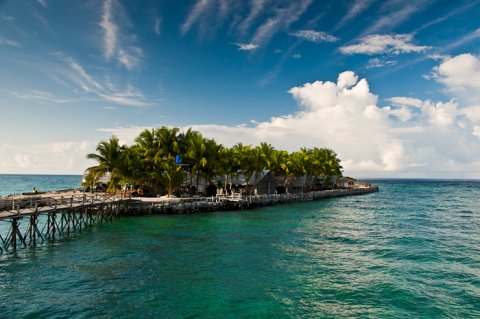 Roach Reefs Resort, located off the east coast of Borneo about 1 hour by speed boat from Tawau offers more privacy than any other resort in the area. It's location, right at the edge of the Borneo shelf and less than 40 minutes from Sipadan Island, make it a paradise for divers and non divers alike.
Roach Reefs is a private marine park where fishing is strictly prohibited (just like at Sipadan) and various species of fish can be observed close up.
There are 10 dive sites at Roach Reefs including 2 wrecks - turtles, schooling barracudas & travelleys, and with the exception of Sipadan it is the only reef troughout the area with resident whitetip reef sharks and nurse sharks that can be found hiding under table corals.
Manta rays and whale sharks are often seen in the vicinity and there a plenty of small critters like spanish dancer, ghost pipe fish, crab eye goby, mantis shrimp, etc.
Facilities:
Restaurant
International phone call service
Karaoke/TV Room
Amusement TV Games
Fishing Trips/Trolling
Diving/ snorkeling equipment rental
Whale Sharks are occasional visitors and may be seen in schools.