The Roach Reef Resort is located 25 mins by boat from Tawau.
The resort's dive center offers diving trips to Sipadan island.
Click here to Make a Booking.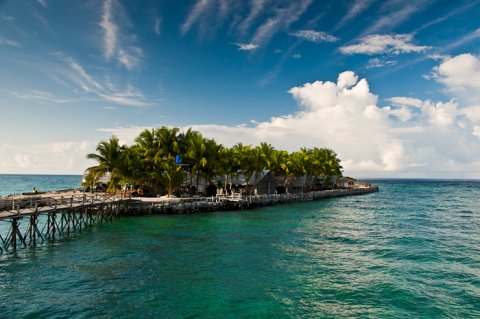 Roach Reefs Resort a comfortable resort situated on a private, man-made tropical reef about 25 mins by speed boat from Balung River, Tawau. Its location, right at the edge of the Borneo shelf and less then 50 mins away from Sipadan Island, makes it a paradise for divers and non-divers alike.
Roach Reefs is the outer most reefs from Tawau, built on by the sinking of 2 used steel barge in 1993. Roach Reefs Resort used to be a private retreat for friends and relatives. However now with the new management, we would like to open up this unique reef to the world !
The Resort
The reef chalets are built in traditional architecture offering simply elegant accommodation for the guests to enjoy their holiday in paradise. We promise to provide best services as our staffs are friendly and helpful and will go out of their way to ensure that you have an enjoyable stay. Facilities of the resort include spacious room with ceiling fan, sea view balcony, private bathroom and toiletries with hot shower, restaurant serving Asian and Continental cuisine, international phone call service, and dive centre provides all in-water activities include scuba training and education.
The Magic Beneath
Clear water with excellent dive spots inhabited by diverse marine life surround the island. Mabul Island's critters have been attracting macro photographers for years while Sipadan is the peak of seamount rising from abyssal depths beyond the continental shelf. Its hard corals, perpendicular walls, and pelagic life are worlds apart from the muck diving site. Our dive centre offering boat dives with maximum 8 people per boat to Mabul or Sipadan offer you to experience the magic beneath.
Sipadan is famous for its gigantic schools of turtle, barracuda and hump head parrotfish. White tip reef sharks are also abundant, and fortunate divers have reported seeing thresher and hammerhead sharks.
For sport fishermen we also offer deep sea fishing while fishing at the reef around the resort itself is prohibited. Maximum 4 hours trip (fishing gear excluded) provide you with a memorable & enlightening experience. Local boat fishing package also offered for those enjoy traveling around nearby water. Be surprise with the crystal clear turquoise water, simply relax and discover exclusivity on the water in 4 hours.
Alternative Honeymoon Resort near Sipadan: Mabul Water Bungalows Resort.
This luxury resort is highly recommended and also offers diving to Sipadan.
Dive centre
Our full service dive centre offers PADI dive courses from beginner level up to Assistant Instructor level. Visit our equipment shop for necessary equipment before experience the beneath paradise. We offer high quality diving and snorkeling equipment for renting.
Daily diving to Sipadan
For those who want to dive in Sipadan everyday, recommended is the Sipadan liveaboard ( MV Celebes Explorer).
Facilities
Roach Reefs Resort is a man-made tropical reefs resort with swaying coconut palms and shady trees. It is away from the crowd and also other annoying insects. Clear waters with excellent dive spots inhabited by diverse marine life surround the island. Snorkeling is excellent in waters just a stone throw from the island.
The island is not crowded and the atmosphere is one of relaxation. There are comfortable chalets with ceiling fan , hair dryer and attached bathroom with hot shower facilities. You can choose between rooms with sunrise or sunset view. Our dive centre can take in maximum 15 divers at one time.
We are connected to the mainland by satellite phone system where divers can make calls and fax at anytime of the day.
Sipadan Trips
By Special Arrangement (subject to Sabah Park approval for Sipadan).
Day Trip ( Sipadan or Mabul or Kapalai) excl. entry fee to Sipadan.
Diving Equipment Rental
Diving rental equipment at Sipadan.
Dive Sites of Roach Reefs Resort
Twin Peaks (Kashimura / James Point) - depth ranges from 15-20m with sandy slope and coral patches. Twin Peaks consist of 2 big rock boulders which is a very active cleaning station for marine life. You can see schools of snappers, groupers and fusiliers. Besides harlequin ghost pipefish, frogfish and nudibranch are a plenty in this famous side of Roach reefs.
Mid Coral - depth ranges 15-25m of coral reef slope. Healthy soft coral growth with plenty of colorful reef fishes. Normally with mild current and a relaxing drift dive. Nudibranch, harlequin ghost pipefish, frogfish and leaf fish are common sightings at this site.
Mid Rock - very similar to Mid Coral but this site consist more of hard coral as compare to Mid Coral. Jawfish, nudibranch of chromodoris sp., gobies and pipefish are the regulars here.
Corner - as the name goes it is at the one corner end of the reef whereby regular sightings of whale shark, whale and dolphin. Mostly in the month of Apr-May and Nov-Dec! Depth ranges 15-20m, coral patch and slope.
Cardinal Patch - as the name goes, it's the site where cardinals are the main attraction. 15-20m depth, coral patch, lot's of whip coral.
Garden Eel - sandy slope with small coral patches all over. Plenty of garden eel at sandy bottom as well as a goby and blennies heaven.
Viking - the mention of Viking... the thought of ship comes into mind, however this is only the local fishing boat which is of 12m in length. Fairly new wreck but have attracted schools of snappers, fusiliers as well as groupers as resident. Rock cods, barracuda of smaller size and group are regulars. Sitting at the bottom of 18m, this fishing boat also attracts others beauty of the depth such as the nudibranch, lionfish and stonefish.
Barracuda Sanctuary - swirling school of chevron barracuda is the highlight of this site. 10-15m diving depth it's provide huge and healthy table corals, soft corals as well as another active cleaning station.
Bus stop - is a deep dive site with max depth of 30m. 5 units of 44 seater express bus are being sunken to create another wreck site.

Scow - diving depth is between 18-25m depth of sand bottom. Schools of snappers and fusiliers can be seen most the time swimming in the blue. Crocodile fish, stonefish and scorpion fish are also residence.

Lobster Point - diving depth between 15-25m this site is most often with mild current and makes an ideal place for drift dive. Coral reef slope with lot's of colorful coral fishes.

Super market - 12m in max depth, this is another artificial reef made of tyre stack up in slope and is house to the beautiful mandarin fish! Lionfish, stonefish and crocodile fish can also be seen here.

Long jetty (house reef, self dive) 6 am - 6pm. Dawn dive can be very exhilarating as you can almost assure of seeing the Bumphead parrotfish in huge numbers, minimum sighting is 30's (reach to 100's). Swimming blue spotted stingray, ornate ghost pipefish, and our frequent visitor the lone Eagle Ray!

For those diving in Sipadan, the resort features 6 Sipadan Island Dive Permits.

Roach Reefs Resort, located off the east coast of Borneo about 1 hour by speed boat from Tawau offers more privacy than any other resort in the area. It's location, right at the edge of the Borneo shelf and less than 40 minutes from Sipadan Island, make it a paradise for divers and non divers alike.

Roach Reefs is a private marine park where fishing is strictly prohibited (just like at Sipadan) and various species of fish can be observed close up.

There are 10 dive sites at Roach Reefs including 2 wrecks - turtles, schooling barracudas & travelleys, and with the exception of Sipadan it is the only reef troughout the area with resident whitetip reef sharks and nurse sharks that can be found hiding under table corals.

Manta rays and whale sharks are often seen in the vicinity and there a plenty of small critters like spanish dancer, ghost pipe fish, crab eye goby, mantis shrimp, etc.

Facilities:
Restaurant
International phone call service
Karaoke/TV Room
Amusement TV Games
Fishing Trips/Trolling
Diving/ snorkeling equipment rental
Whale Sharks are occasional visitors and may be seen in schools.