As the largest island in TAR park, Gaya Island has much to offer.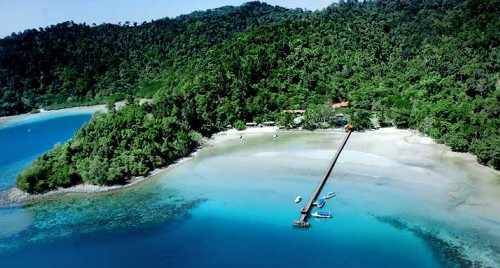 The word Gaya comes from the word for 'big' in the language of the Bajau people, and spanning an area of 15km², this dense and unspoiled island is deserving of the name.
Jungle Trekking
One of the greatest sights to see on Gaya Island is the array of wildlife including monkeys and monitor lizards. With over 20km worth of hiking trails on Gaya Island, jungle trekking is a popular activity with visitors having the chance to spot hornbills, snakes, macaques and an unusual array of insects along the way.
Gaya Island's coastline has a number of mangrove forests which are very interesting eco-systems to observe. There is a raised platform that runs from Padang Point to Hornbill Bay where visitors can have the unique experience the eerily quiet mangrove swamp forests.
What are the Resorts on Gaya island
The first of the 3 resorts is Bunga Raya Resort, an exclusive and secluded spot which faces away from the city in an area previously known as Police Beach. The resort is perched on the top of a hill surrounded by jungle landscapes and the ocean. With such a secluded location, it's easy to see why many tourists opt to stay at Bunga Raya Resort to get away from it all.
There are two other resorts location of the north side of Gaya, just beyond the line of sight of Kota Kinabalu. These resorts are known as Gayana Eco Resort and Gaya Island Resort and are both excellent places to stay with their own unique offerings of luxury and island living possibilities.
Snorkeling Gaya Island
For those wishing to experience a snorkeling safari, there are shallow reefs all around Gaya Island which offer the perfect setting to experience the vibrant underwater paradise that lies beneath the surface.
Scuba Diving Gaya Island
Dive operators and resorts have taken advantage of the scuba diving available in this area and offer fun diving, underwater walking and diving courses for all levels.
Gaya Island Village
The entire island does not technically fall within the boundaries of the park. On the tip of Gaya Island nearest the city is an ever increasing water village community which is a unique experience that many visitors enjoy seeing in addition to the natural wonders available on the park side of the island.
Click here to Book your Reservation (Special Online Discount)
Note: Don't miss the must see islands of Sipadan and Mabul (Tawau airport). Please contact us for more information.