Seaventures Dive Resort is a converted oil rig offering the perfect location for non-stop diving.
Click here to Book your Reservation (Special Online Discount)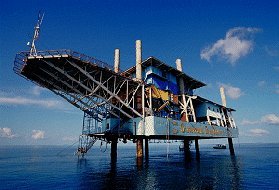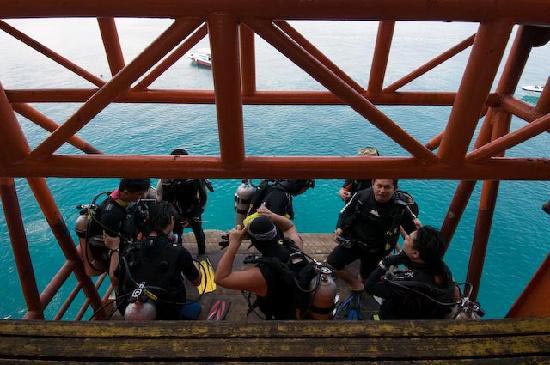 Seaventures is located next to Mabul island and offers comfortable air-con rooms.
Diving
Seaventures is itself a famous dive site and offers unlimited diving under the resort.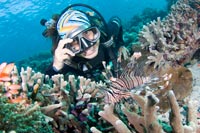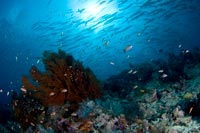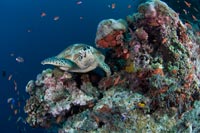 Seaventures is a PADI 5* Resort and offers technical diving and courses such as cave diving at Turtle Tomb.
Seaventures sends daily dive boats to Sipadan island.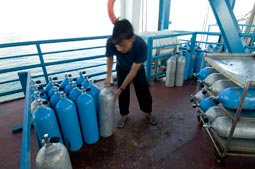 Dining
The restaurant is located on the open deck and offers delicious food and beverages - buffet style.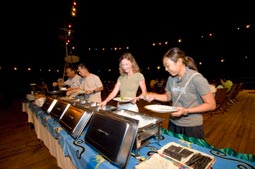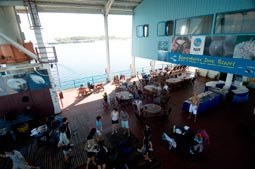 Other facitilies
Other facilities include a movie room, a karaoke lounge and bar, pool tables, table tennis, a souvenir shop and a conference room. There is broadband Wifi access and a camera room for your UW housing.
Rooms
Seaventures Dive Resort offers 28 well-furnished air-con rooms and 2 beautiful suites.
For travellers on a budget, there is also a quad sharing dorm room.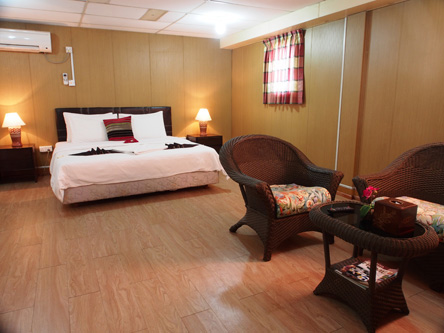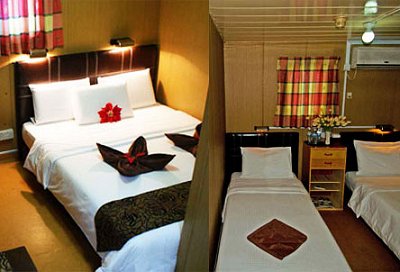 Prices are subject to change and availability, rates vary according to the type of room.
Book your reservation online to receive a special discount.
Customer Reviews & Ratings
"The diving was amazing and the dive staff was very friendly and always helpful. Seaventures is a unique experience as it is a converted oil rig. This resort is mostly dedicated for divers. All the divers in my group were advanced which was good. The buffet food was really delicious and varied." Jessica Lim, Singapore
"Fantastic experience to stay for a week on an oil rig. The cabin was fine, clean and comfortable with A/C. Diving twice at at Sipadan was the best. The diving equipment is in very good condition and the dive center is well run and organized." Mike Ferguson, Brisbane, Australia
"We chose to stay in the VIP room and it was really spacious and comfortable. Very good service with friendly staff. The DMs were excelling at showing us the tiny macro around Mabul and Kapalai islands. Overall, very positive feedback about Seaventures, a well run resort on a unique setting." Franz Hess, Stuttgart, Germany
"The dive staff was really helpful, taking care of our diving equipments very well. The view from the rig is amazing as it is high up (access is via a lift). There is wifi everywhere. The food was plentiful and delicious. I saw the barracuda tornado in Sipadan and dozens of turtles. Under the rig is an excellent dive site for macro photography also there can be a bit of current at times on the surface." Wilfred NormanBoulder, Colorado, USA
Send an Enquiry
(Special Online Discount)