Pom Pom Island es un resort de lujo construido en una isla tropical privada del Mar de Celebes.
Pulsa aqui para hacer su reserva online.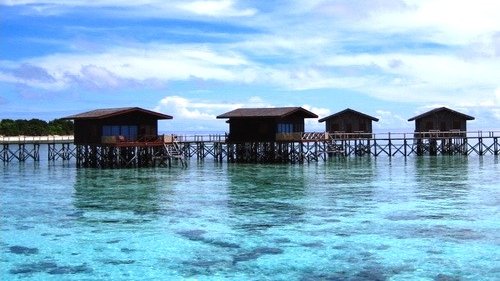 Pom Pom Island Resort features luxury Beach Front Villas, Water Villas and Garden Villas which are built in a traditional and eco-friendly way.
The villas offer the following amenities:
Air conditioning
Private balcony
Ensuite bathroom
Ceiling fans
Hot showers
Hair dryer
Beach towels
Complimentary coffee and tea
Situated in the heart of the Coral Triangle Pom Pom Islands waters are well known their biodiversity, sea turtles along with being a macro-lovers paradise.
The island is a nesting site for Hawksbill turtles and Green turtles. End of april until the month of August are the months during which turtles nest, and those visiting during those months can join the turtle patrol organized by Pom Pom Island Resort to watch the nesting activities of turtles.
Pom Pom Island Island offers access to more than 20 dive sites with protected coral reefs and islands such as Pom Pom, Mataking, Timba-timba, Kalapuan, Baturua, Mantabuan, Bohaydulong, Batarua Reef and the Tun Sakaran Marine Park. Diving at Sipadan is also possible, also it depends on availability.
Pom Pom Island is a licensed PADI 5 Star Dive Centre offering diving courses from begginers to more advanced levels.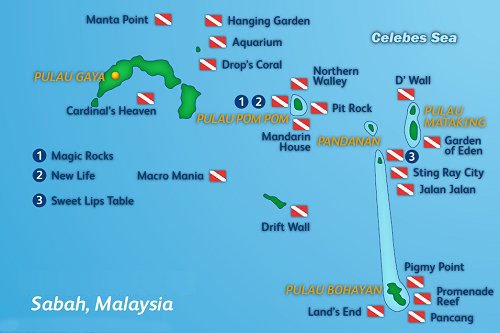 Calyx Restaurant
Delicious traditional cuisine (Malay and Chinese) along with western food is served at the Pom Pom Heart, a beautifully designed open air restaurant.
There is a bar area perfect for a glass of wine, beer, cocktail or a cup of Italian coffee.
Yin & Yang Spa
The Yin & Yang Spa offer a wide range of massages and treatments specially designed to indulge your senses.
Other Activities
Other activities include:
Introducción al buceo
Snorkeling & amp; Natación
Kayak de mar
Sala de juegos
Mesa de billar
Voleibol de playa
Fútbol
Bicicleta
Jogging
Naturaleza senderismo y picnic en la cercana isla de Bohaydulong
Yin & amp; Yang Spa Tratamientos
Introducción al buceo
Internet WIFI
Tortugas marinas ponen huevos
Pompom Liveaboard
Deluxe cruising to neighbooring islands in available on the newly built Putry Pom Pom Liveaboard.
Pom Pom Island Resort offers diving and non-diving packages
Booking is advisable at least 60 days in advance. Late booking is available subject to availability.
Pulsa aqui para hacer su reserva online.
Customer Reviews & Ratings
"La isla es preciosa, limpia y tranquila. Es una de las islas donde existe una alta actividad
en la protección y conservación de las tortugas. Perfecto para lunas de miel o vacaciones
familiares. Me encanta estar aquí con mi familia y amigos." Miguel Da Silva, Espana
Hacer una Reserva
(Descuento Especial)